Sony Clie T665 and SJ30 Special Edition Preview
By: Dan Royea, PalmEvolution.com
October 29, 2002
These days the majority of handheld computers sport a metallic silver finish, which is a rather techno-chic look. That's most handhelds, but not all. For example, Handspring offered a variety of color options for their original Visor Deluxe, as well as their later Edge and Neo lines. Palm Inc.'s m1xx-series feature changeable faceplates in different colors and patterns (including silver), carrying on a trend first seen in cell phones. But for the most part, you can have your PDA in any color you like, as long as it's silver.
For those who prefer a "pilot" with a little more individuality, there have been a few Special Edition finishes. In Fall 2000 the Palm Vx was released in Champagne and Millennium Blue (plus the infamous Claudia Schiffer model...) and IIIe "SE" came out in a clear case. For Fall 2001, Sony offered some alternatives to silver for their new Clie T-series: the T615C in a blue finish (plus red in Japan only), and the T415 in black. The Palm m505 was available for a limited time in American Cranberry and Patriot Blue. These limited edition models were quickly snapped up, and appear to have attained some status as collectables. And now...
The Fall 2002 Collection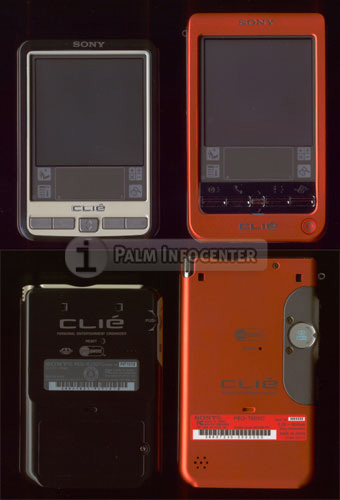 Introduced just in time for the Christmas 2002 shopping season, Sony today announced Special Editions of their T665C and SJ30 models.
The T665C Special Edition is available in metallic orange with a matching cradle. It's a very rich shade of orange that is beyond my photographic abilities to accurately reproduce, but if you've ever seen the original Aibo robot in orange, you'll know the color. The rear plate in the JogDial area and the cradle's HotSync button are a dark metallic grey, and there's a subtle amount of bright chrome that accents the Memory Stick / stylus silo surround at the top and wraps around the side seams. The flip-cover and matching wrist strap are black with contrasting orange stitching and an all-black stylus completes the ensemble. Personally, I think it looks totally cool :-).
The SJ30 Special Edition comes in two "flavors": gloss black and gloss white. Instead of the standard flip-cover, each includes a matching leather case as a bonus.
The black version of the SJ30 has light tan contrast trim in several places: surrounding the screen and front buttons; the JogDial area on the left; the Ir-port / MS slot / power button area on top; plus both ends of the chrome-shafted stylus. The power button and MS slot cover are a bright yellow. It looks quite sharp, but the glossy black finish is an absolute fingerprint-magnet. The bonus case has a matching glossy black exterior and tan interior.
The materials and workmanship of the leather "book-style" case are top quality and it has some very nice design features. The case should offer excellent screen protection as the front cover contains a very stiff (metal?) core with a couple of strategically-placed little bumps inside to keep the SJ30's buttons from being accidentally pressed if the case is squeezd. The SJ30 locks to a plastic connector (the same kind used on the standard flip cover) which is attached via a leather hinge to the inside back cover. There is a lined credit card slot inside the front cover and a matching Memory Stick slot hidden in the back cover. When closed with the tongue-and-loop fastener, the case is about an inch thick.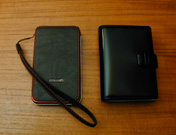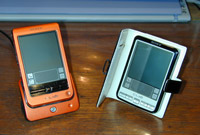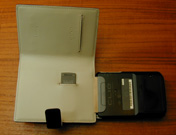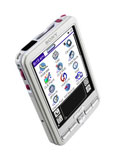 If black isn't your style, the SJ30 is also offered in a gloss-white version with a light grey screen surround and top trim, and pink accents for the stylus ends, MS door, JogDial, Back and Power buttons. The leather case has a glossy white exterior with contrasting interior.
[image courtesy of Sony]

Beauty is more than skin deep
Instead of just describing the appearances of the Special Editions, it's worthwhile comparing the features of the two models. They share the same vibrant 320x320 color screen and standard Sony features such as Memory Stick slot; JogDial and Back button; and the 20-pin base connector. They both run Palm OS 4.1 and have 16MB of RAM and 4 MB of flash ROM.
While the weight (4.9 oz.) and width (2.9") are approximately the same, the T665C is taller (4.65" vs. 4.1") but slimmer (0.5" vs. 0.7"). The other key differences:
| | | |
| --- | --- | --- |
| Feature | T665C | SJ30 |
| Processor speed (MHz) | 66 | 33 |
| Rechargeable battery type | Lithium Ion Polymer | Lithium Ion |
| MP3 capability / headphones | Yes | No |
| Speaker type | Polyphonic Speaker | Piezo |
| Alarm options | Audio / LED / Vibrate | Audio / LED |
| InfraRed AV remote control capability | Yes | No |
| USB Cradle included | Yes | No |
| Bonus leather case included | | Yes |
| Suggested Retail Price | $349 | $249 |
In terms of software, both Clies offer a number of applications in addition to the standard Palm OS PIM applications, including: Documents To Go, PictureGear Pocket, gMovie, Clie Paint, World Alarm Clock, PowerOne Personal calculator and several Memory Stick utilities. The T665C also includes some extra applications that take advantage of the hardware features: AudioPlayer, MP3 Manager, Clie RMC, Sound Utility, and Clie Mail. The T665C and SJ30 have a broad and essentially similar selection of trial version software as shown at this page on the Clie site.
You can check out earlier Palm InfoCenter reviews of both the T665C and the SJ30 for additional information on these models. Both devices offer great features and performance for the price, and the high quality leather case that comes with the SJ30 is a really nice new bonus.
While the Special Edition colors aren't going to meet everyone's personal preferences, I think it's great to have some new alternatives to metallic silver ;-)
Purchase online at SonyStyle.com
Article Comments
(46 comments)
The following comments are owned by whoever posted them. PalmInfocenter is not responsible for them in any way.
Please Login or register here to add your comments.

Comments Closed
This article is no longer accepting new comments.