Apple IIe Emulator for the Palm OS
Wednesday, July 2, 2003 1:43:34 PM
After a year of development a open source Apple IIe emulator has been released for the Palm OS. The emulator is still ealy in development but can run almost any Apple][ disk.
The Appalm ][ emulator brings a 64K Apple IIe, 80 column card, and 1 disk drive, to a Palm OS based PDA. Disk images can be uploaded into the internal Palm memory or a memory card. Joystick emulation is provided using the hard keys, the emulator also supports the Sony game controller and high resolution screens.
The emulator comes with a windows utility to convert disk images to a format the palm os can use. The speed of emulation is quite close to an actual Apple IIe on some Palm OS 5 devices, the developer recommends using a model with at least a 66mhz processor.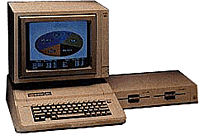 According to Apple-History, the Apple IIe was first released in January 1983. It went on to be one of the most successful Apple computers ever. It was based on the 65C02 processor, which could run at 1.02 Mhz. It came with 64K of RAM and a 32K ROM which included BASIC, an assembly language interface, and several other hard-coded options. The Apple IIe originally sold for $1,395.
According to the developer, this is a very preliminary version meant more as a proof-of-concept. More features and performance enhancements are in the works. The project is open source and its license is GNU GPL. The project page can be found here.
Thanks to gfunkmagic and Hillary for the tip.
Article Comments
(40 comments)
The following comments are owned by whoever posted them. PalmInfocenter is not responsible for them in any way.
Please Login or register here to add your comments.

Comments Closed
This article is no longer accepting new comments.