Access & Share Network Files With SmbMate
Thursday, September 11, 2003 11:47:25 AM
SmbMate is a new application that allows Palm OS handhelds to access and share files with computers and network servers. SmbMate uses the popular SMB/CIFS protocol for sharing files and even printers across a network.
SmbMate is a freeware client that implements SMB over TCP/IP transport. SMB (Server Message Block) client/server protocol was designed primary for sharing resources (files, printers, devices) across networks. Now SMB protocol as well as its inheritor CIFS (Common Internet File System) is used on many platforms and operating systems. The most popular implementation of SMB protocol is the Microsoft's implementation. The Microsoft Windows OS family uses SMB/CIFS for sharing their files and printers across network. There are SMB implementations for UNIX, MAC and other systems.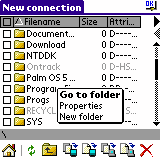 By using SmbMate you can:
Establish connection between your PDA and SMB servers;
List files,shares,accounts on server;
Copy/move files from server to PDA's external memory card;
Copy/move files from PDA's memory and external memory card to server;
Delete/Rename files on server;
Change file attributes on server;
Post messages to server;
Shutdown/reboot server;
The program also allows some limited use with shared printers. You can print pre-prepared files on a storage card to a shared printer by connecting to the printer as if were a disk and copying the file from the handheld to the printer.
The developer notes the application is currently 1.0.alpha.3, and there are some bugs and features still to be implemented. It has successfully been tested with server running windows 98 to windows server 2003. It works best with high speed wi-fi connections. SmbMate can be downloaded here.
Article Comments
(26 comments)
The following comments are owned by whoever posted them. PalmInfocenter is not responsible for them in any way.
Please Login or register here to add your comments.

Comments Closed
This article is no longer accepting new comments.