Palm OS RSS News Reader Released
Friday, September 26, 2003 2:14:08 PM
Stand Alone software today announced the release of Handheld Headlines/RSS, a dedicated news and RSS reader for the Palm OS of devices.
RSS News feeds are the newest way to download and read news stories on a variety of subjects, from all over the internet. Handheld Headlines/RSS for Palm OS allows you to download these news feeds, either via a HotSync or using a direct internet connection on your Palm Power Handheld, and then read them later.
Handheld Headlines/RSS supports onboard device downloading, making use of a Palm's internet connectivity (whether WiFi or modem based) as well as the Palm VII and i705 series devices. It also runs on the newest devices from Palm and Sony, taking full advantage of both their advanced wireless capabilities and larger screen sizes.
Handheld Headlines/RSS has a list price is $14.95, and is available directly from Stand Alone and from PalmGear and Handango.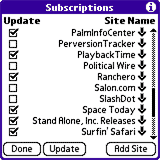 "Handheld Headlines/RSS allows you to keep track of the news no matter where you are." said Ben Gottlieb, CEO of Stand Alone. "You can update your subscriptions during a HotSync, or directly on the Palm, making it easy to stay up to date."
Article Comments
(19 comments)
The following comments are owned by whoever posted them. PalmInfocenter is not responsible for them in any way.
Please Login or register here to add your comments.

Comments Closed
This article is no longer accepting new comments.