Possible T3 SD Card Problem?
Thursday, October 9, 2003 5:22:09 PM
Multiple reports have surfaced claiming a possible issue with certain SD cards and the Tungsten T3. Some users are claiming that SD cards are losing all data and others become corrupted after use with the T3.
update Palm wants to hear from you if you have experienced a T3 SD card wipe out.
Updated Oct 9, originally posted Oct 6th. See below for the update.
Reports in the discussion forums, detail the problems some users have had with the Tungsten T3 and SD expansion cards. The majority of problems appear to be with Sandisk SD cards and cards larger than 256MB. The cards will mysteriously lose all data, or become corrupted. In order to use the cards again they have to be completely reformatted.
Bits & Bolts software, which makes a SD backup program, has also been receiving complaints from it's customers after problems arose with the T3. According to Bits & Bolts, some users recieve an error message, error #0x2908 "A sector that was accessed is bad.", prior to the card losing data. The company says the majority of problems has been with Sandisk cards, however other SD card manufacturers are also susceptible.
At this point, it is not known what exactly causes the problem or how widespread it may be. Bits & Bolts software believes the problem may be caused by a issue with Slot Driver of the T3, and has sent Palm Inc a detailed technical explanation and error sample.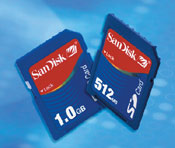 You can use the Card Info application to determine the manufacturer of your SD card, as the label does not often indicate the proper manufacturer. In the meantime, it is always wise back up your data and SD cards. PIC is awaiting an official word from Palm Inc. on the possible issue.
Palm has already posted an apparently unrelated SDIO update for the Tungsten E handheld. That patch is only for the TE and will corrupt other handhelds if not installed on the TE.
UPDATE: (10/8) At this point a Palm Inc representative has confirmed that they are investigating the issue and will share additional information when it becomes available.
UPDATE: (10/9)
Users that inquire with Palm Support about the problem are now being asked to report some basic information back to Palm Support in order to help diagnose and investigate the issue.
Palm support is sending out the following message:
Palm would appreciate help from customers to understand and isolate instances where Palm Tungsten T3 handhelds may not have recognized SD cards. Palm has received customer inquiries on this subject and is expediting resolution. To help Palm troubleshoot, we encourage users who have experienced this issue to provide the following information:
1. Manufacturer of your SD card.
2. Serial number of your SD card.
3. Last action performed with your SD card before the issue arose.

If anyone has experiences the problem and can supply the above information, you are encouraged to contact Palm support here.
Article Comments
(199 comments)
The following comments are owned by whoever posted them. PalmInfocenter is not responsible for them in any way.
Please Login or register here to add your comments.

Comments Closed
This article is no longer accepting new comments.

Only the first 50 comments are displayed within the article.
Click here for the full story discussion page...