Nagel Keynote Opens The PalmSource Conference
Wednesday, February 11, 2004 5:50:06 PM
February 10th, 2004, San Jose, California. The annual PalmSource developer conference kicked off with a keynote speech from David Nagel, CEO of PalmSource. Read on for PalmInfocenter's coverage of the opening keynote and Nagel's remarks on the current state of affairs in the Palm Economy.
The 2004 PalmSource developer conference kicked off with a keynote speech from David Nagel, CEO of PalmSource. It began with a video touting the many diverse ways that people use and incorporate Palm-powered devices into their lives, showing the success and capabilities of Palm OS smartphones, a Mars clock application programmed and compiled on an m505, footage of the Tapwave Zodiac, examples of how doctors are using Palm-powered handhelds to improve patient care and even clips of an inventor that built an automated Ping Pong machine controlled with a Kyocera smartphone.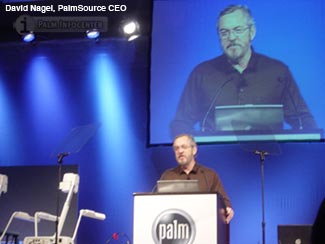 Nagel then explained how PalmSource is at the forefront of an industry amidst great change. He stressed how the move to the next generation Palm OS is an enormously important and exciting transition, just as big as the introduction of the original Pilot. "Palm OS 6 Cobalt is the most important piece of software [PalmSource has] ever delivered, a revolutionary OS that will have as big an impact as the original Palm OS," said Nagel.
A recap of PalmSource highlights of 2003 followed, including the celebrated landmark of 30 million Palm OS devices sold, the platform reaching 20,000 third party commercial applications (far more than any other platform), the emergence of more converged devices, the spinoff from Palm Inc and opening as an independent, publicly traded company on the Nasdaq.
The PalmSource chief then looked back at some of the high tech trends that emerged over the course of 2003, such as smartphones gaining mainstream acceptance, digital camera sales surpassing film cameras, Bluetooth beginning to reach critical mass, and the success of Apple's iPod and the iTunes service.
Nagel felt that 2003 was a watershed year for PalmSource. Licensees cranked out an amazing array of innovative products, many of which PalmSource never even envisioned possible when Palm OS 5 was on the drawing board, such as the Zodiac and Garmin iQue products. He stressed that unlike other platforms, there is an amazing diversity of Palm-powered devices in both software and hardware. Instead of producing cloned devices or white box PDA's, PalmSource encourages licensees to push the envelope, giving OEMs the flexibility do come up with innovative designs. The end result is the amazing device creativity that drives the industry.
Nagel went on to talk about how the Treo 600, which he uses himself, has become the poster child of the smartphone industry, winning tons of awards and receiving multitudes of praise. He said that the Treo 600 has been the most popular device to date with the European phone carrier Orange, and has generated the highest average revenue per user (ARPU) than any other smartphone.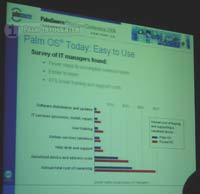 In 10 years time, Nagel said, it will be hard to imaging anyone not owning a smartphone. He understandably sees enormous potential for growth as the smart mobile device market segments. He thinks there will be an explosion of innovation in the next 5 years, citing new form factors, screen resolutions, and different different types of displays.
He then talked on how the Palm OS ready program has enabled licensees to create products more quickly and bring new devices and technologies to market quicker. He highlighted the silicon partners of TI, Motorola and Intel and their newest partner NVidia. He touched on the growing number of Palm OS licenses and how some will bring out products based on concepts never seen before.
The much-anticipated Cobalt was next on the agenda. He told the developer audience that more than 80% of the Palm OS codebase was rewritten for Cobalt, while at the same time maintaining compatibility with previous versions of the Palm OS. The audience was then treated to a quick demo of Cobalt, showcasing the new graphics technologies, the new command bar and the new built-in media player that does both audio and real time video. Nagel left most of the talk about Garnet and Cobalt for Larry Slotnick's keynote, stay tuned for a more in-depth news on Cobalt and Garnet in an upcoming article.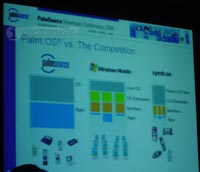 Nagel went on to talk about the current competitive landscape. He brought up the example of Microsoft's approach, of having three separate platforms for mobile devices, all of which are incompatible, with the net result being that there aren't many applications available for any of them. He felt the same issue plagued Symbian, as it too has a common core but different interfaces, making apps incompatible across devices. He felt that Nokia's recent move to take control of Symbain will be a bonus for PalmSouce as current licensees of Symbian will be much less happy about licensing an OS from their biggest competitor.
Nagel wrapped up his talk by reiterating that PalmSource and the Palm economy is in transition. The Palm-powered world is moving from a pioneering industry to an even bigger industry. With the latest released of Palm OS Cobalt and Garnet, PalmSource is poised to take advantage of and power the the next generation of smart mobile devices.
Article Comments
(47 comments)
The following comments are owned by whoever posted them. PalmInfocenter is not responsible for them in any way.
Please Login or register here to add your comments.

Comments Closed
This article is no longer accepting new comments.