Palm OS RSS Syndication Programs
Tuesday, March 9, 2004 12:00:46 AM
Are you a news junkie or looking to a mobile way to keep up with news from all over the web? Many sites use rss as a way to share headlines and content. PIC takes a look at some options for using rss with your mobile device.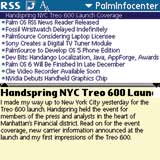 RSS, which stands for really simple syndication, are automatically updated xml news feeds that store headlines and news briefs from many popular news sites and blogs. It has become the de-facto way to share headlines and content, and many websites large and small offer the news feeds for free.
Stand Alone Readers
QuickNews is a rss client that allows you to download feeds, via a HotSync or using a direct internet connection on your handheld. It is definitely one of the best options out there and has been out for a long time. It has a 30 day trial, and sells for $14.95.
Another option is the colorful and animated application called Ticker. The app will scroll feeds across your screen, just like a news ticker.
RSS Aggigators and Offline Readers
For non wireless handhelds or for grabbing rss feed during hot-syncing, you can use the JPluck X document converter and the Plucker viewer. JPluck X converts many documents and text, and also handhelds rss feeds. It relies on the open source doc viewer plucker to view content. There are version for Windows, Mac and Linux operating systems, but only the windows hotsync conduit will automatically convert content.
Another option for Mac users is the recently updated NewsMac 3. The free donation-ware app is primarily a RSS aggregator application for OS X, but also includes the ability to sync headlines to a Palm Powered PDA or iPod. The program works in combination with the iSilo document reader and converter to transfer rss and view headlines.
PalmInfocenter's own RSS feed can be found here.
Article Comments
(16 comments)
The following comments are owned by whoever posted them. PalmInfocenter is not responsible for them in any way.
Please Login or register here to add your comments.

Comments Closed
This article is no longer accepting new comments.