Create and Share Map Locations With Earthcomber
Tuesday, March 8, 2005 1:02:36 PM
Earthcomber today announced new features of its freeware personal navigator that allow users to mark and share places on the map. Earthcomber Version 1.2 lets users mark their favorite places on maps, either on their Palm-powered devices or directly on the Web, and then share those places through private and public groups in the Earthcomber community.
"The vision for Earthcomber is to allow users to exchange points of interest on the map," said Earthcomber founder Jim Brady. "We're putting people in charge of their own experience, and with this release of Earthcomber, people can graduate from being recipients of information to being mappers of their own worlds."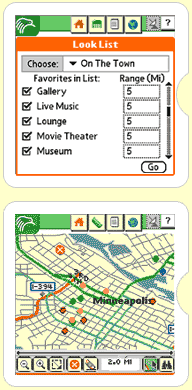 Earthcomber users can mark places of interest as they travel, making field notes while the software provides the map coordinates and other details. Users with GPS (Global Positioning System) will be automatically positioned on Earthcomber maps. Users without GPS can use the maps to position themselves. The break-away feature, however, is that users can then share their own locations in Earthcomber's new "community" area.
Locations can be shared with public groups, or kept in private, member-only groups. Users who join a group can load that group's locations onto their own Palm-powered devices, or browse the locations on the web. For example, if one member of a bird-watching group marks 20 new spots for viewing birds, and a second member marks 30 new spots, all members of the group get access to the 50 new spots. The new features of Earthcomber provide users with numerous applications:
- Personal travel and adventure - create a map of an upcoming trip that contains all the places you intend to go, and then use the Palm as a mobile vacation guide. During the trip, you can mark memorable spots such as highlights or discoveries. You can store these spots in "plogs" (map logs) that can be kept private or opened to the public for read-only viewing.
- Family connections - mark family homes, ancestor gravesites, family reunion sites, and places of genealogical interest. These places can then be made available to other family members.
- Interest groups - mark the best places for jogging, hiking, photography, railroad spotting .
- For work - mark the locations of customers, job sites, suppliers, and other spots of interest to co-workers.
- At events - create mobile event maps that help participants find key spots during conventions and festivals.
Earthcomber also comes preloaded with nearly 1.5 million places of interest, including stores, services, attractions, historical sites, and more. Earthcomber can notify users about the closest library, post office, shopping mall, hospital, or police station. Nature lovers can quickly find the nearest park, mountain summit, hiking trail, lava flow, glacier, waterfall, lake, and many more natural features. Earthcomber also contains over 50,000 sites from the National Register of Historic Places. Users can personalize their experience by indicating exactly the types of places they want to see on their maps.
Earthcomber is free for users. Users can download the software along with free digital maps for any county in the United States. Businesses can list their locations on Earthcomber for as little as $35 per year. Earthcomber is currently available on PDAs and smart phones powered by the Palm OS , version 3.5 or higher.
Article Comments
(6 comments)
The following comments are owned by whoever posted them. PalmInfocenter is not responsible for them in any way.
Please Login or register here to add your comments.