Palm Debuts the Z22 Organizer
Wednesday, October 12, 2005 12:01:01 AM

Palm also announced the Palm Z22 handheld today. The Z22 is an easy-to-use and compact color handheld built for the mass market, the Palm Z22 organizer is the most affordable color handheld from Palm yet at $99 USD.
With the introduction of the Palm Z22 organizer, Palm is targeting the $1 billion per year paper-planner market. Research conducted by Palm suggests a substantial population of late technology adopters have been afraid to buy handhelds, fearing they are too difficult to use. The Palm Z22 organizer offers paper-planner users as well as others an extremely simple and fun way to stay organized. New users will find the three-step set-up process for the organizer incredibly easy. Users also will find that keeping track of their to-do lists, busy schedules, family and friends' contact information, shopping lists and birthdays all in one small place is useful and simple. To ease the transition from paper planners to the Palm Z22 organizer, Palm includes an organizational booklet with tips and vignettes on how to be more organized.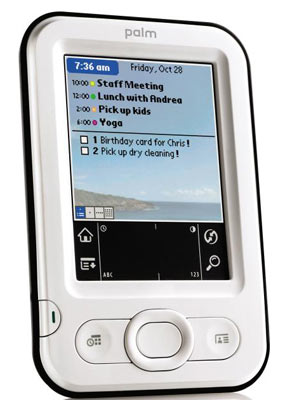 Weighing just over 3 ounces and about the same size as a deck of playing cards, the Palm Z22 organizer is compact and stylish with its white front and translucent blue backing. Small enough to fit into any purse, backpack or back pocket, it boasts a bright, color display, making it easy for users to read names and addresses. They can even color-code appointments, and view and carry pictures of their friends and family wherever they go.
"The Palm Z22 organizer was built on the success of the original Zire handheld, which sold more than 1 million units in its first seven months on the market," said Ken Wirt, senior vice president of worldwide marketing for Palm, Inc. "It's perfect for first-time users and students, who can now throw away their paper planners, replacing scratched-out pages and dozens of sticky notes with all the information they need in one little place."
The Z22 has physical dimensions of 2.7" W x 4.06" H x 0.6" D (68.5 x 103 x 15 mm) and weighs 3.4 ounces (96 grams). It runs Palm OS Garnet 5.4.9 and is powered by a 200 MHZ Samsung ARM processor. It has 32 MB of nonvolitile flash memory, of which 20MB is user accessible. It has a built in lithium ion rechargeable battery. The X22 has a 160 x 160 pixel CSTN display that supports 4096 colors.
Key software includes core applications, such as Calendar, Contacts, Memos, Tasks, Note Pad, Expense, Calculator, World Clock and Photos. It also includes a new game, Crazy Daisy, made by Astraware. The Palm Z22 organizer comes with AddIt, a program that includes a variety of applications such as CheckSplit, Chess, Carb Counter and Solitaire. The software CD, included with the organizer, has an eBook reader with three books and a dictionary; the powerOne Calculator, perfect for basic and advanced mathematics; and SplashShopper, a helpful shopping list application.
The Palm Z22 organizer has an estimated U.S. street price of $99 and is available today from the Palm online store, at Palm Retail Stores and at select retail and resellers throughout the world.
Article Comments
(56 comments)
The following comments are owned by whoever posted them. PalmInfocenter is not responsible for them in any way.
Please Login or register here to add your comments.

Only the first 50 comments are displayed within the article.
Click here for the full story discussion page...