Palm Opens Five New Stores in California
Monday, November 7, 2005 10:54:51 AM
Palm today announced the opening of five Palm Retail Stores in California. These new stores are part of Palm's 3-year-old strategy to reach new and existing customers where they spend time, in airports and malls. It also allows Palm to own the customer experience, a strategy that has worked for other consumer tech companies.
The new stores include the following:
The Palm Retail Store at Valley Fair Westfield Shopping Town (San Jose), a new inline store that opens today, replacing the original kiosk location;
The Palm Retail Store at San Francisco International Airport, Terminal 1, which opened Oct. 24;
The Palm Retail Store at San Francisco International Airport, Terminal 3, which opened Nov. 5;
The Palm Retail Store at Palm's company headquarters in Sunnyvale, which opened Nov. 2; and
The Palm Retail Store at the Grove Shopping Center (Los Angeles), an entertainment and shopping destination, which opens on Nov. 14.
These stores represent close to 30 percent growth in Palm Retail Store locations, strengthening the Palm brand and reflecting the success of the retail-store strategy that Palm selectively began rolling out with the original kiosk location at Valley Fair three years ago.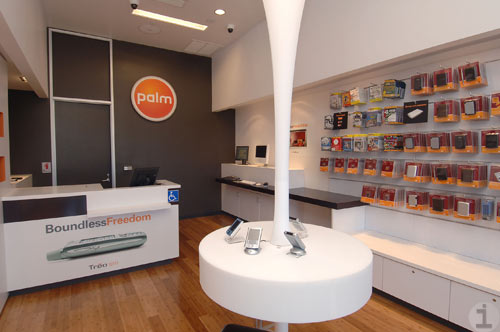 "Our retail stores offer a casual shopping environment where Palm solutions experts put the Palm experience directly into the hands of new and upgrading customers, which benefits current and future sales across all our retail and carrier partners," said John Hartnett, senior vice president of Palm's worldwide sales and customer service. "Early surveys have shown that more than 31 percent of shoppers who stop at the Palm Retail Stores purchase from other retail partners, giving us confidence that the stores are a strategic as well as commercial success."
Retail Store Customers
The Palm Retail Stores embody the company's belief that the future of personal computing is mobile computing. According to IDC's Mobile Worker Forecast, nearly two-thirds of U.S. workers will travel for business in 2006. Many of the stores are located in some of the nation's busiest airports; these continue to be popular with Palm's main demographic of mobile business customers, who appreciate the ability to upgrade an existing device or purchase accessories while traveling.
Palm Retail Stores also are reaching new users who are buying Palm's high-end devices, demonstrating the rewarding experience customers have when they interact with knowledgeable staff and have a hands-on experience with Palm products. Forty-three percent of Palm Retail Store customers are new to handheld computing -- 56 percent of those new users are buying Palm Treo smartphones, and 44 percent are buying Palm handhelds and Palm LifeDrive mobile managers.
"Our first Palm retail location, a kiosk at Valley Fair, was the beginning of a pilot program to get more consumers to experience Palm products and accessories," said Kanwal Sharma, director of Palm Retail Stores. "Today we're opening a stylish 800-square-foot store at Valley Fair, and have 22 stores nationwide. The solid growth in year-over-year revenue demonstrates the success of the retail strategy; for example, during the 12-month period ended Oct. 6, 2005 over the preceding 12-month period, revenue at the Valley Fair store grew almost 52 percent."
All Palm Retail Stores offer the following:
a hands-on experience with the current line of popular Palm products and accessories, including Palm Treo smartphones, the Palm LifeDrive mobile manager, and the new Palm TX handheld and Palm Z22 organizer;
software applications from Palm and third-party developers; and
expert support and the exceptional brand experience customers expect from Palm, demonstrating the company's vision that handheld computing solutions can help people enhance their productivity and enjoyment of life.
More information about Palm Retail Stores and locations can be found at www.palm.com/retail.
Article Comments
(15 comments)
The following comments are owned by whoever posted them. PalmInfocenter is not responsible for them in any way.
Please Login or register here to add your comments.