Palm Releases Improved VersaMail
Tuesday, April 15, 2003 10:18:26 AM
Palm has released VersalMail 2.5. The new version includes a number of improvements and new features including automatic message retrieval, a 2-line message interface, new fonts and an improved syncing conduit.
Automatic Email Retrieval
VersaMail 2.5 can now automatically check for new mail messages on a schedule the user specifies from every 15 minutes to once a day. When new messages come in the user can be notified with a sound, a LED blink, or a vibration. If a message is queued to send, and the user is out of wireless coverage, VersaMail will automatically try sending the message again later.
Improved Display
The new default display option is a 2-line message view, it also includes additional high resolution font and color support. VersaMail will also render basic HTML email formatting including colors, bold, underlining, italics and bullets. In addition all hyperlinks will now open in the default web browser.
New Synchronization and Security Features
In addition to Windows PC synchronization with Microsoft Outlook, Outlook Express, and Eudora, as well as server-based sync with Exchange, Lotus Domino, IMAP, and POP, VersaMail 2.5 adds sync support for local Lotus Notes mail. VersaMail also supports Windows PC synchronization of up to 11 user-defined Microsoft Exchange, IMAP, or Lotus Domino folders. The Synchronization conduit has a revamped interface, which now includes a progress bar and overall sync speed has been improved.
VersaMail now uses 128-bit AES encryption to encrypt account passwords on the handheld. It now also supports SSL email on handhelds running Palm OS 5.2 or higher.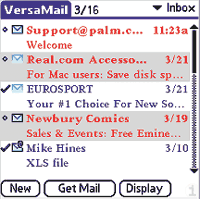 VersaMail can now attach and play back Voice Memo files (requires Voice Memo 1.1) and unzip ZIP files. Improved SD Card support allows access to subfolders located on a card. And when there are multiple applications on the handheld available for viewing a single attachment, VersaMail now lets the user choose which to use to open the file.
VersaMail is available now as a download through the Palm Software Connection for $34.99 USD. It will also ship in the box with future Palm Tungsten handhelds.
Article Comments
(68 comments)
The following comments are owned by whoever posted them. PalmInfocenter is not responsible for them in any way.
Please Login or register here to add your comments.

Comments Closed
This article is no longer accepting new comments.

Only the first 50 comments are displayed within the article.
Click here for the full story discussion page...