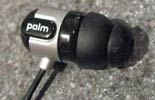 Aside from the small square screens, my longest-standing complaint with Palmís Treo line is the frustrating lack of an industry-standard 3.5mm stereo headphone jack. While de rigeur on nearly all other types of portable consumer electronics released since the original Sony Walkman, the vast majority of mp3-playing feature phones and smartphones on the market still forego the popular 3.5mm design in favor of a 2.5mm jack, A2DP, or some sort of USB to headphone adapter.
Palm has at least made some attempt to mitigate this critical flaw in recent Windows Mobile-powered Treos by incorporating stereo A2DP connectivity (standard on Treo 750 and available via ROM update on Verizonís 700w/wx and with the release of todayís featured product, the new Palm Stereo Headset Pro. The Palm 2-in-1 Stereo Headset Pro combines a pair of comfortable stereo ear buds with an integrated microphone module. Read on for the full review.
Read the Full Article Text Here


Article Comments
(12 comments)
The following comments are owned by whoever posted them. PalmInfocenter is not responsible for them in any way.
Please Login or register here to add your comments.