Verizon's Palm Pre + Pixi Plus Details
Thursday, January 14, 2010 1:19:47 PM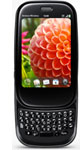 Since the announcement last week at CES 2010, the chief question concerning Verizon's newly-announced Palm Pre Plus has been regarding its internal RAM capacity.
While it is widely known that the device will feature double onboard storage space at 16GB, whether or not the original Pre's 256MB RAM would also be upped remained uncertain until recently. PalmInfocenter can confirm that the Palm Pre Plus will indeed come equipped with double the operating memory at 512MB of RAM.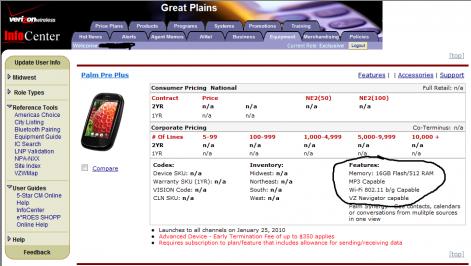 While some have speculated that the extra memory may not offer any noticeable performance benefits, some hands-on reports suggest otherwise. In fact, sirbowen1982's forum post details some brief impressions of the Pre Plus, stating that the UI transitions and animations are much smoother and multitasking is much improved when a large number of cards are open simultaneously.
Additional details from Bowern's report confirm the Pre Plus' center button removal in favor of a Pixi-like sensor as well as the same capacity-challenged Palm BP1 1150mAh battery as the existing Pre, Pixi, Treo 800w, and Centro. The Pre Plus' VZ Navigator is said to work quite well but will come with the usual $9.99/month price tag, so Verizon's own Motorola Droid maintains its upper hand with its free bundled Google Navigation capability. The Pre Plus' integrated Wi-Fi router tethering functionality follows Verizon's $30/month pricing with a 5GB data cap.
Final retail pricing remains unknown but is reported to be $200 for the Palm Pre Plus and $150 for the Pixi Plus. Finally, Verizon Pre and Pixi Plus handsets are confirmed to have webOS 1.3.5.1 at launch.
Article Comments
(24 comments)
The following comments are owned by whoever posted them. PalmInfocenter is not responsible for them in any way.
Please Login or register here to add your comments.