Best Buy Preparing Stores for TouchPad
Wednesday, June 15, 2011 1:51:22 PM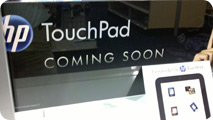 After a long absence from the brick and mortar retail world, WebOS is making a gradual comeback. Spearheaded by the impending HP TouchPad tablet launch on July 1st, HP is also making a push to bolster in-store signage for the HP Veer and future devices running the OS.
A recent trip to one Best Buy last weekend revealed the early stages of a more substantial HP presence. The first store I visited had only a small 2-device standalone HP display in the smartphone area of BB Mobile. A white Veer was powered on and usable while a non-functional black dummy Veer was positioned alongside it.
The 2nd Best Buy, visited earlier this week, was more encouraging. This store was in the midst of rearranging its entire Mobile and PC areas. This location had a larger, more prominent HP display in the middle of the laptops. Two non-functional Veer were on display on one side of the kiosk and signage sporting QR codes for the "coming soon" TouchPad was on the other side. I noticed a fair amount of interest by customers, as this was a very heavily-trafficked area of the store and situated near several Android tablets from Acer and Motorola.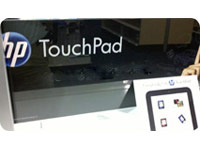 Unfortunately, the supporting items for HP's WebOS has not yet caught up with the arrival of the Veer. Neither Best Buy had any Veer accessories in stock, an especially troubling sign given the proprietary nature of the Veer's magnetic microUSB and 3.5mm headphone adapters.
Last week we discussed Wal-Mart's rollout of TouchPad-ready shelf tags and now reports from around the country are confirming that this is a nationwide initiative by the retail giant. Finally, I visited an Office Depot yesterday was also in the midst of a major reorganization of their mobile device department. While the sales clerk said that were making room for new tablets, aside from the BlackBerry Playbook no new devices or signage were on display.
Article Comments
(1 comment)
The following comments are owned by whoever posted them. PalmInfocenter is not responsible for them in any way.
Please Login or register here to add your comments.