TouchPad Reviews from Around the Web
Friday, July 1, 2011 9:52:47 AM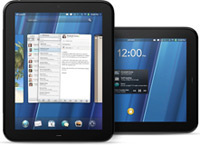 While we are still awaiting delivery our TouchPad review unit, several other sites have already posted their initial reviews of the HP TouchPad. Here are some of the highlights from various reviewers around the web.
Engadget's review of the TouchPad is rather harsh, with review Tim Stevens feeling that HP's latest effort isn't nearly on the level of its iOS or Android competitors.
Longtime Wall Street Journal personal technology columnist Walt Mossberg, via AllThingsD, plainly states that the TouchPad falls short of the iPad despite its strengths in UI, multitasking, and wireless printing. Again, many promises of "in the coming months" and "soon" are made for future updates to address many of Mr. Mossberg's concerns.
Former Engadget Guru Joshua Topolsky chimes in on his new This Is My Next site with a review that echoes the general consensus online--the TouchPad's OS is still a multitasking marvel but the hardware and performance definitely feel second-rate. He also takes particular issues with the heftiness and bulk of the TouchPad's form factor along with the overly plastic-feeling materials used for construction.
PCWorld, generally not a repository for all things WebOS-related, gave the TouchPad 2.5/5 stars in their review by Melissa J. Perenson. She loved the Beats audio quality, baked-in wireless printing capabilities and the overall design of the tablet. However, the limited functionality, weak app assortment, and sluggish performance were all deal-breakers. Once again, a major-league review concludes with a reference to hoping that a future OTA update would address the most glaring issues.
PreCentral's Derek Kessler (aka CaptainHair) has written an extremely detailed two-part review that is relatively complimentary of the TouchPad despite a number of bugs associated with a first-gen effort such as the lack of a calculator or any kind of image-capture software for the single onboard camera. For those looking for the review done from the most decidedly WebOS-centric perspective, this is the one.
For a bit of international flavor, Charles Arthur of the UK's Guardian offers a relatively complimentary review that favors less in-depth technical discussion. He ranks the TouchPad below the iPad but states that the plethora of Android tablets as well as RIM's Playbook are decidedly a step below the TouchPad.
Gizmodo's Matt Buchanan brings a relatively short review of the TouchPad, claiming that he feels "...so completely crushed" by its failure to live up to its initial promises. Again, performance issues (especially Flash) and missing apps defeat many of the advantages from WebOS' core strengths. He recommends giving HP time to attempt to sort out the TouchPad's issues.
Information Week's Fritz Nelson states that WebOS is definitely better on a tablet than on a smartphone but it still needs plenty of polish and to go on a diet to match up with the sleeker efforts from Samsung and Apple. An interesting comment within Nelson's review is that the Qualcomm Snapdragon APQ8060 dual-core powering the TouchPad is capable of addressing much more heavy-duty hardware (1080p video decoding, 3D displays etc), leading to hope that HP will be able to swiftly roll out more powerful hardware in the future. He also questions the value proposition of the TouchPad, as most of its competitors sport features such as dual cameras and video output capabilities at the same or lower pricing.
Article Comments
(39 comments)
The following comments are owned by whoever posted them. PalmInfocenter is not responsible for them in any way.
Please Login or register here to add your comments.