Mystery Vx Add-On Explained... Completely
Friday, September 22, 2000 8:47:33 AM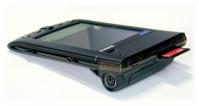 Updated: New information added at the end of this article on Saturday, September 23.
Last week, some other Palm sites ran a picture of a mystery clip-on device for the Palm V series (with an IBM Workpad in the pictures) with a request for anyone to send in details if they knew the source of the picture. Well, the mystery has been solved. It is a picture of the HATcker, a module that fits onto the top of the V series and, by communicating with the infrared port, lets the Palm connect to a keyboard and do other functions, too. It is currently under development by TAPSPRING, a Taiwan-based company.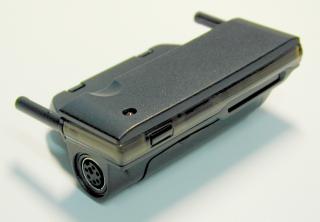 Update: The TAPSPRING site is still under development but I was able to get in touch with Harry Chou from TAPSPRING and got more details.
The HATcker isn't a single device; it is instead a series of add on modules specially design for the Palm V series. Every one in the series will come out with Keyboard connector by default and some other function in its expansion slot.
The first one on the market will be a keyboard connector and a blue flashing alert light in the slot that will be released around December.
Several other modules are also in development, such as a truely powerful TV IR remote (38K), a vibrator for event notification, and more. Probably the most anticipated is one that sports an MMC(SD) reader but that one may be a while coming. As Mr. Chou said, "Technically speaking, it is not so easy!"
Update 2: They are still not yet sure what any of the HATcker modules will cost but Mr. Chou is certain the first one, the keyboard connector with alert light, will be less than $50.
Article Comments
(15 comments)
The following comments are owned by whoever posted them. PalmInfocenter is not responsible for them in any way.
Please Login or register here to add your comments.

Comments Closed
This article is no longer accepting new comments.