Demo 2001 Brings New Palm-related Products
Monday, February 12, 2001 10:53:51 AM
Demo 2001 kicked off yesterday and there are many Palm-related products being shown there.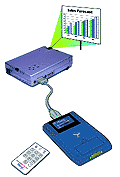 The big news is the new Springboards. MARGI Systems introduced Presenter-to-Go, which allows people to project PowerPoint presentations through the Visor. Users can connect Presenter-to-Go directly to a digital projector or other VGA display to transfer and present Microsoft PowerPoint, Excel, Word, and HTML documents in color. A remote control is included, so that presenters can operate without holding the Visor itself. Slides can be rearranged and hidden, slide notes reviewed, and manual, automatic, or continuous looping modes may be selected. Presenter-to-Go is available now for $300.
Update: Presenter-to-Go is available now, not later this quarter as was originally stated.
IDEO unveiled the eyemodule2, a full-color, full-VGA digital Springboard camera capable of capturing images and short video clips in color or black and white. The new "eyedrop" feature allows users to upload images from a PC. Included are the eyecontact address book software that attaches images to address book entries, an image browser from ACD Systems, and ClubPhoto's album making and Internet sharing software. The eyemodule2 includes a timer, thumbnail views, sorting, batch editing, slideshows, and sizing in capture modes. It is available now for $200.
Palm itself will show several prototype Bluetooth applications, including the ability of two Palm users to wirelessly check each others' calendars to schedule a meeting.
As a historical note, the original Palm Pilot once appeared at a Demo show.
Update 2: Presenter-to-Go ships with software that converts a PowerPoint 97 or 2000 presentation, a Word document, or an HTML file into a proprietary Mobile Presentation format that can be downloaded into the Visor. Complex animations and video are not transferred, and neither are Adobe Acrobat files, according to John Hurst, manager of developer relations at Handspring.
The 2-Mbyte Springboard holds, on average, about 100 slides. The module does not maintain all of the colors in the original presentation, but the output is of 1024 x 768 resolution with a customized 8-bit palette.
Article Comments
(9 comments)
The following comments are owned by whoever posted them. PalmInfocenter is not responsible for them in any way.
Please Login or register here to add your comments.

Comments Closed
This article is no longer accepting new comments.