m105 Details Leaked (Updated)
Wednesday, February 28, 2001 2:50:10 PM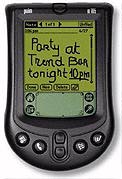 We have just received a leaked advertising brochure for the m105 from a source in Europe. It isn't in English but still a great deal can be learned from it.
As predicted, the m105 will have 8MB of RAM. It will have 2MB of non-flashable ROM and come pre-installed with OS 3.5. It will also come with the Palm Internet Kit, allowing it to use a mobile phone to make an Internet connection. In addition, it will have AvantGo and Sync to Desktop Mail, a conduit that will allow it to synchronize with Outlook, Eudora, cc:Mail, and more. It even comes with the Macintosh software.
According to the source, it will be released on Tuesday, March 6. It will sell for about $200.
Aside from its increased memory, the m105 is almost physically indistinguishable from the m100. Its dimensions are 11.8 cm x 7.9 cm x 1.8 cm and 125 g. Naturally, this means that all accessories designed to work with the m100 will work with the m105. Unlike the m100, the m105 will come with a cradle.
According to a recent Cnet article, this is the model that is going to replace the IIIxe, which has been discontinued.
Related Articles:
Disclaimer: I got this information from a product brochure written in a language that I don't speak. If any of it turns out to be incorrect, sorry.
Update: Technomatic in the UK are advertising the Palm m105 in their printed catalogue delivered today (1st of March), at a price of £170 (roughly $240) including sales tax (£145 / $206 excluding tax).
The device is not available on the web site, nor possible to order. The company's sales team quotes an availability date of the 9th of March. The sales team had no information on Palm m505. -Johnny Christoffersen
There are also reports that another UK company, Misco, has the m105 in its latest printed catalog, which says the device will be out on March 6. The details are on page 15 of the catalog.
Update 2: Numerous people wrote in to point out that the m105 appeared on the products page of Palm.com. The link didn't go anywhere but to a "Page Not Found" error. It has since been removed.
Article Comments
(54 comments)
The following comments are owned by whoever posted them. PalmInfocenter is not responsible for them in any way.
Please Login or register here to add your comments.

Comments Closed
This article is no longer accepting new comments.

Only the first 50 comments are displayed within the article.
Click here for the full story discussion page...