Hi-Res Apps for Hi-Res Screens
Monday, May 7, 2001 2:13:07 PM
Both the HandEra 330 and the new Sony Clié offer screens with higher resolutions than Palm's standard 160 x 160 pixels. The 330 has a 240 x 240 monochrome screen and a soft Grafitti area that can expand it to 320 x 240. The Sony N710C has a 320 x 320 color screen. Both of these offer ways to display legacy 160 x 160 apps but some developers are already working on applications that can natively run at the higher resolutions.
Naturally, Sony and HandEra aren't standing idly by while this is going on. HandEra is sponsoring a design contest to encourage developers to make use of it soft Graffiti area. Both companies offer extensive developer resources online.
Quickoffice
A version of Cutting Edge's Quickoffice that supports the HandEra 330's new screen comes bundled on the device. However they have no plans to create a special version for the new Clié. A spokesperson for the company said "The screen is just double-resolution, but the same square as Palm is so there is nothing to enhance to work on it (i.e. no rotate or soft input panel). Maybe we'll support new fonts if they add some. "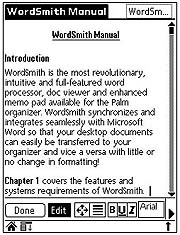 WordSmith
Tamara Hinds of Blue Nomad said, "We already support the HandEra Hi Res screen and will be supporting the Sony Hi Res screen as well!"
Documents to Go
"At this time we don't have a special version of Documents To Go for the side view on the HandEra or the Sony Clié," Erin O'Connor from DataViz said.
Qvadis Reader
Qvadis plans to support both new resolutions. Sam Peralta said, "We definitely are working on compatible versions for the high-res screens on the Sony Clié and HandEra 330. The emulations are great for older versions of the software, but some of our new features will be built on what the new resolutions allow us to do."
TomeRaider
PalmTec Ltd's Software Director said TomeRaider is "probably" going to support these higher resolution screens.
MGI PhotoSuite Mobile Edition
Shelly Sofer, PR Manager for MGI Software, said, "We certainly plan on supporting the higher resolutions. Unfortunately, I don't have an answer as to when. We're trying to get a hold of these devices to do testing."
SpashPhoto
"We're in the early stages of researching how to take advantage of these new devices. We don't have any product announcements to make at this time, but we do hope to support the higher res screens on these devices in the future," said John Chaffee, President of SplashData.
SilverScreen
SilverScreen will be releasing a version especially for the Clié but made no mention of the 330. Bohm Kim of PocketSensei said, "We are in partnership with Sony and are working to promote the features supported by upcoming devices. The Japanese color Clié currently sports a fantastic 320 x 320 high resolution screen. Our prototype SilverScreen looks gorgeous in this resolution! We plan to take advantage of this and other (yet to be announced) features."
JFile
Land-J Technologies will soon release a new version of JFile. John Lehett said JFile 5.x "will support the Handera 330 extended screen resolutions. It will not initially directly support Clié high res" but they will be looking at implementing it once JFile 5.x is out. All current registered JFile 4.x users will receive JFile 5.x free of charge
MobileDB
Cassidy Lackey, Handmark's VP Engineering, said "We are still evaluating the resolutions. It would be nice to know that the PalmOS will standardize on 2 or 3 resolutions that can be easily supported. If not, we will likely focus on the 2 or 3 resolutions that make most sense for our demographic and support those only then utilize the built-in emulation for the rest."
thinkDB
The next version of thinkDB will support the new HandEra's various screen resolutions and jog dial.
Red Mercury's Games
Red Mercury, LLC has announced that all their games will fully support the PEG-N710C. High-resolution AcidSolitaire 2.0 is available now from their site. AcidFreecell 2.0 and Atom Smash 2.0 will be available on May 28.
Aaron Ardiri's Games
Mr. Ardiri said, "I have had my Handera 330 since December 2000 so all my games (except Maryo Bros) work on it.. We are doing a fix for Maryo Bros.. will have it ready before device is out."
He also said, "I have considered doing some special g&w games (twin screen) on the hi-res screens but they won't work on normal Palms so I don't know if the market is going to be worth it."
Jot
CIC has not yet received a copy of the HandEra 330 so they haven't been able to test Jot with it. A spokesperson said, "I will have to assume that Jot will not be compatible with this particular model."
Related Articles:
Thanks to Josh for the Jot info. -Ed
Article Comments
(88 comments)
The following comments are owned by whoever posted them. PalmInfocenter is not responsible for them in any way.
Please Login or register here to add your comments.

Comments Closed
This article is no longer accepting new comments.

Only the first 50 comments are displayed within the article.
Click here for the full story discussion page...