Scientists To Use Palms on Arctic Expedition
Tuesday, May 15, 2001 7:04:20 AM
The staff members of the German mobile computing magazine Palmtop-Pro were asked by a group of scientists to suggest the most efficient data collecting tools for their next trip to the Arctic, scheduled for June. The magazine proposed the Palm platform together with a handful of top Palm programs for the research expedition, including BugMe!, TinySheet, and WordSmith.
The scientists will be using BugMe! to handwrite notes and sketches directly on the screens of their handhelds, beam them to colleagues, and set reminder alarms. They will be using TinySheet on their specially-designed Palms as one of their reporting tools for the data captured during their expedition.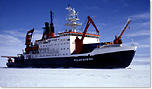 WordSmith was chosen for its RTF compatibility. Boris Michael von Luhovoy, publishing editor of Palmtop-Pro, said "On a expedition out of reach from any outside help you have to rely on working solutions which are proven and have a perfect history. That's RTF. Conflict with data means that the scientist's data could be corrupted or lost - incurring millions of dollar going irreversibly down the drain."
All in all, seven Palm applications and a handful of other Palm solutions were selected for this journey.
To enable the scientists to use the handhelds in the sub-zero temperatures of the Arctic environment, the Palmtop-Pro consultants have not only disassembled each of the devices and filled the interiors with special polymer fibers that can withstand 90 degrees below zero (Celsius), but fitted an electrical and computer controlled heating inseam in a watertight "OtterBox" PDA case.
The expedition will be on the Polarstern, a large-scale floating laboratory considered to be the most important tool in Germany's polar research program. It is equipped for biological, geological, geophysical, glaciological, chemical, oceanographic, and meteorological research and houses nine research laboratories. It spends almost 320 days a year at sea and has completed more than 25 expeditions to the Arctic and Antarctic since it was first commissioned in 1982. The ship has at most a crew of 44 and offers work facilities for an additional 50 scientists and technicians.
On the Web:
Special thanls to Kaerrie Simons, Kevin Doel, and Tamara Hinds. - Ed
Article Comments
(35 comments)
The following comments are owned by whoever posted them. PalmInfocenter is not responsible for them in any way.
Please Login or register here to add your comments.

Comments Closed
This article is no longer accepting new comments.