PalmSource: One on One with Mike Mace
Friday, February 8, 2002 3:59:52 PM
Mike Mace is the Chief Competitive Officer for the newly-created Palm subsidiary, PalmSource. He held the same position at Palm, Inc. until the spin-off. His job is to be the company's expert on both PalmSource's licensees and their competitors and be able to make predictions about the direction the entire handheld market is moving.
He sat down for an interview with News Editor Ed Hardy on Day 3 of the annual PalmSource conference.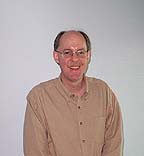 You have to be aware that OS 5 isn't all that some people hoped it would be.
Basically the way Palm OS 5 happened is, we had this schedule for doing a huge amount of stuff that was going to take us through the end of the year or something like that. When David Nagel [CEO of PalmSource] came in, he said, "No. We need to do some of this sooner, so let's pick out the things that are most important, put them on a fast-track, and we'll just do a series of releases over time." What we now call Palm OS 5 is kind of the first release of all this stuff we've been working on.
Can you say anything about the timing for the next release after OS 5?
We're not giving exact timeframes but what I have been authorized to say is that we are trying to move the innovation a lot faster. It's not going to be 18 months between releases. We would be delighted if eventually we could get releases to be as close as 6 months. I have no idea if we'll be able to hit that early on; my guess is it will take a bit longer than that. But what we'd like to do is to be able to come back to folks with more stuff in the 6 to 9 month range beyond when Palm OS 5 comes out and to be able to show some more progress.
When Dave Nagel came in, some of the people who know industry history said, "Wait a minute, this is the guy who was at Apple for the Copeland project", which was this enormous effort to completely rewrite the entire MacOS all at once. It failed. So when Dave came into Palm, people said, "Oh my God, is he going to do the same thing at Palm that he did at Apple?"
I'll tell you what Dave did when he got to Palm. He said, "I see you are planning on doing an entire comprehensive rewrite of the operating system all at once. My life experience tells me that that's not a very good idea. We should look to prioritize things and move into a series of releases that happen faster."
So in a lot of ways the things that people were dinging us for and saying "Oh no, they are going to repeat that stuff" is exactly the experience that Dave is using as a lodestone and telling them what not to do.
You said in your keynote that PalmSource was encouraging licensees to explore new markets. Can you say anything about Palm OS devices that aren't the traditional handhelds or smartphones?
I'll give you a great example that I can't give you any details on but it will give you a flavor of what I'm thinking about when I say that stuff. One of the best meetings I've had while I was at PalmSource was with Garmin to talk about what they are doing to combine GPS capabilities with a handheld. They are going to do some really cool stuff. I'm really excited about what they are working on.
A number of companies are working on some really cool stuff. I'm coming out of this conference very encouraged. The creativity these guys are showing is very interesting.
Do you want to drop any hints on future licensees?
We've said in public that we're working on Asia. Beyond that I'd end up screwing up the negotiations if I dropped any specific hints.
I don't want to set the expectation that all of a sudden there are going to be 15 Palm OS licensees because we don't want to flood the market with so many licensees that no one can make money. It would be easy to really screw up this market by doing too much licencing too fast. On the other hand, there is room for more licensees and you'll see us go after some folks aggressively. There is more to come.
With OS 5 coming out this year, do you have any plans to update OS 4?
We are looking at potentially bringing some OS 5 features to OS 4 but we haven't made the determination on exactly which ones or whether we can do it. To be honest, completing OS 5 comes first. If we have extra capacity to add some stuff to OS 4 we'll do it but the higher priority is to make sure we get OS 5 done on time.
I don't want this to read like "Oh, Michael committed to where they are going to bring across a whole bunch of stuff." Where we can we'll do it. Where licensees want support for those features we'll do it. But the main focus is driving towards OS 5 and beyond.
Between now and when we release it [OS 5] to the licensees is actually not that many months. If we are doing late spring or early summer, that's pretty close. I think we will update people periodically on how it is going. I don't know how many updates we'll give but it's getting close.
Will there be new devices running OS 4?
Yes. I'm not saying from what vendor and I'm not saying what. But there's a lot of stuff in the pipeline.
Don't expect an instant cut-over to all new products being ARM even after OS 5 comes out because there is nothing that makes OS 4 obsolete. We've got software compatibility back and forth. If a particular company likes the price/performance of 68K, and already has some work underway on it, or just feels it is more appropriate for their particular product, that's fine.
Over time I expect that eventually everything will become ARM-based but I think it can easily be a couple of years in transition. That's going to sound really weird to your on-line readers because they are out on the crusty edge of innovation but not everybody pushes out to the same degree.
Does PalmSource plan to update the built-in applications to improve the personal information manager (PIM) functions?
I know this won't be a satisfactory answer to a lot of folks, but that's why the third-party developers are here. They do a gorgeous job of extending these applications in all sorts of directions. As a group, they are smarter than we are at PalmSource. There are wonderful products out there and if you want to get an enhanced PIM, by all means go for it.
Having said that, we recognize that there are areas where we haven't moved the applications forward as much as we should have. You will not see us trying to wipe out DateBook4 or something like that but you will see the PIM apps evolve. It's not in the first release of Palm OS 5 but it is on the agenda for things we want to do in the future.
Is HandMedia a real company? A press release went out recently claiming that it was about to release a device running the Palm OS.
I tried to track it down. It doesn't exist.
Any final comments?
The one other thing I was going to comment on was I did read and actually forwarded around Palm the discussion on your site that was talking about what's going to be in Palm OS 5.
You just made Mike Cane very happy.
Let him know I thought it was excellent.
Obviously by that point it was too late to change anything in the OS but it was interesting to see the expectations.
One kind of general comment I wanted to make is you got two classes of commenters on that essay, which is a really good essay. You got one group of people who are very focused on end-user functionality. It was about PIM apps or it was about other apps they would like to see bundled and things like that. You got another group of people who tended to be much more influenced by core functionality of the OS. You know, "I want to see multimedia; I want to see threading", other stuff like that. They were kind of going at it against each other. It was really, really interesting.
We really want to make sure that the OS is moving forward very well on the fundamentals, so it has the multimedia, the threading, and all those sorts of things. Yes, we'll move forward with the built-in apps, we'll make improvements to that stuff. We really want to make it easier for customers to identify whatever third-party apps they want to use and very easily be able to get those things installed. Over time it should matter less exactly which applications we are pre-bundling with the operating system. It should be more a case of when you get this operating system you understand that you are buying into this huge range of software that you can easily choose from and you can just go and get the one that you want.
Individual licensees may well create bundles that they put with the OS and aim it at a particular type of customer but the idea of there being a large set of one size fits all, ultimate apps that we throw out there is probably not the way to expect it operate. Where there are things that everybody uses like the calendar, we'll move those things forward but I'm pretty serious about the things I've said about one size fits one and exposing the diversity of the developers' work to the customers. That's what we'd really like to be doing with the platform.
Related Information:
Article Comments
(86 comments)
The following comments are owned by whoever posted them. PalmInfocenter is not responsible for them in any way.
Please Login or register here to add your comments.

Comments Closed
This article is no longer accepting new comments.

Only the first 50 comments are displayed within the article.
Click here for the full story discussion page...