Treo Shipping in Europe
Sunday, February 24, 2002 5:49:34 PM
Handspring UK is now shipping the Treo 180 line of communicators. The price for UK customers is £400 with service activation, or £500 without. The price for other European customers is €700 without service activation. The price with a service plan isn't available yet.
While Handspring is offering the service activations with BTCellnet for UK customers, other Europeans will have to wait for their carriers to offer the Treo if they want to buy it with service activation.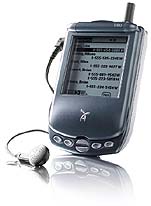 BTCellnet is a division of of mmO2, one of Europe's largest mobile companies. Other divisions include Viag in Germany, Telfort in the Netherlands, and Digifone in Ireland. All of these will eventually carry the Treo.
Several days ago, Handspring and SFR (Groupe Cegetel), a French provider of mobile communications services, announced that they will jointly distribute the Treo line in France. It will be available at the beginning of April at retail stores throughout the country and Handspring's French webstore.
The Treo line was released in Hong Kong and Singapore last month. The company is taking orders from its U.S. webstore as well, though the supply is a bit limited.
The Treo 180 line is made of of several models, all of which have integrated wireless capabilities allowing them to handle both voice and data. The Treo 180 has a built-in keyboard while the 180g uses Graffiti for text input. Both of these have monochrome screens. A color version is planned for later this year.
These smartphones use the GSM standard, which has almost 100% coverage in Europe and is widely used in Asia. The U.S., on the other hand, has a hodge-podge of wireless standards and GSM is available in only a few areas. Handspring is working on a CDMA version of the Treo for the U.S. but it is not yet available and the company will only say it will be out before the end of this year.
Thanks to Huggy for the tip. -Ed
Related Information:
Article Comments
(9 comments)
The following comments are owned by whoever posted them. PalmInfocenter is not responsible for them in any way.
Please Login or register here to add your comments.

Comments Closed
This article is no longer accepting new comments.