Preparing Handhelds for Second Arctic Expedition
Monday, April 22, 2002 10:48:20 AM
Last year, a group of scientists took an expedition to the Arctic, armed with Palm IIIc handhelds that had been specially modified for the very cold climate. Last's year's trip was so successful, they are getting ready for a second one. As they did last year, the scientists are looking to the editors of Palmtop-Pro magazine for advice on which hardware and software to bring on the trip. They, in turn, are looking for companies willing to sponsor the trip by donating software.
The extreme conditions the scientists will experience makes some peripherals impossible, like keyboards, which don't work well for people wearing thick gloves.
A new addition on this year's expedition is Apple's iPod, which will be used by the scientists not only as a mobile data storage but also for monitoring and storing sounds of the whales, pictures taken, etc.
As Boris Michael von Luhovoy, the Publishing Editor Palmtop-Pro, said, "The Palm records all the database stuff. The iPod functions more or less as a mobile storage device - working in minus 20 degrees Celsius without protection."
The two mobile devices will be working together. For example, a Palm can record the exact location where a whale sound was heard, while the iPod can store the sound on its 10GB disk.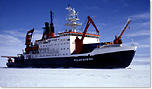 The expedition will be on the Polarstern, a large-scale floating laboratory considered to be the most important tool in Germany's polar research program. It is equipped for biological, geological, geophysical, glaciological, chemical, oceanographic, and meteorological research and houses nine research laboratories. It spends almost 320 days a year at sea and has completed more than 25 expeditions to the Arctic and Antarctic since it was first commissioned in 1982. The ship has at most a crew of 44 and offers work facilities for an additional 50 scientists and technicians.
Related Information:
Article Comments
(12 comments)
The following comments are owned by whoever posted them. PalmInfocenter is not responsible for them in any way.
Please Login or register here to add your comments.

Comments Closed
This article is no longer accepting new comments.