Palm Announces the Zire Handheld
Monday, October 7, 2002 12:20:59 AM

Palm Inc has announced the new entry level, low cost, Zire Handheld.
With a street price of $99, the Palm Zire handheld is designed for the first-time purchaser and is being billed as "The ultimate alternative to paper."
The Palm Zire handheld represents the first major introduction to mainstream consumers, a new Palm OS handheld model at the sub-$100 price point. It has a polished white face and silver back design reminiscent of an Apple iPod.
The Zire is the lightest-weight Palm handheld on the market at 3.8 ounces, with measurements of 4.4 x 2.9 x 0.6 in. (109 grams; 11.2 x 7.4 x 1.6 cm). It runs Palm OS 4.1 on a 16mhz Motorola Dragonball EZ processor with 2MB or memory. The display is a 160x160 pixel, monochrome screen and is powered by a rechargeable lithium ion battery. The package comes with USB Hotsync cable, cd, manual and a flip cover. The Zire does feature a IR port for beaming data, however does not have the Palm Universal Connector and lacks any form of memory card expansion.
The silkscreen "Calc" icon has been replaced by a star-shapped "favorite app" icon, which will be used for HotSync by default (There is no HotSync button since there is no included cradle). The model has only two application buttons, which are used to launch the Date Book and Address Book programs. It has seperate up/down buttons as well. The mini-USB and power charging ports are located on the top of the handheld.
Consumer-electronics outlets, major retail chains and online e-stores will carry Zire handhelds. The Palm Zire handheld is immediately available in most countries worldwide. In a first for Palm, the Zire will be targeted at impulse buyers and non-traditional pda users in new locations such a discount retail outlets and supermarket check out lines.
"The Palm Zire handheld symbolizes the beginning of a new generation of useful tools to simplify our lives," said Todd Bradley, president and chief executive officer of Palm Solutions. "Zire handhelds can replace or augment paper-based organization systems and deliver substantial savings in time and cost."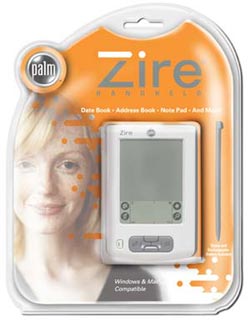 The Zire ships with Palm Desktop software for Windows and Mac. Also, Pocket Mirror® by Chapura®, which synchronizes with Microsoft Outlook (Windows only). Applications include the stabdard Palm OS core programs including, Address Book, Date Book, Clock, To Do List, Memo Pad, Expense, Note Pad and Calculator. In another Palm first a few "classic" games are included; Mine Hunt, Puzzle, Giraffe, and Hardball.
Related Information:
Article Comments
(89 comments)
The following comments are owned by whoever posted them. PalmInfocenter is not responsible for them in any way.
Please Login or register here to add your comments.

Comments Closed
This article is no longer accepting new comments.

Only the first 50 comments are displayed within the article.
Click here for the full story discussion page...