Palm Intros GSM/GPRS Wireless Tungsten W
Monday, October 28, 2002 12:01:00 AM
Palm Inc, today introduced the Palm Tungsten W handheld, the first Palm branded integrated GSM/GPRS wireless handheld with a built-in keyboard for easy data entry; one-handed navigation; and a high-resolution color screen. In a separate news release today, Palm also introduced the Palm Tungsten T handheld.
UPDATE: Palm SG has formally announced the availability of the Tungsten W for Feb 28th.
With carrier activation, the Palm Tungsten W handheld is a data-centric handheld providing a sophisticated combination of wireless email, SMS messaging, phone functionality, business applications, and Palm's classic Personal Information Management (PIM) software.(1) The Palm Tungsten W handheld is built with one of the fastest radios available today for the GSM/GPRS network, the most widely supported wireless technology used by hundreds of operators worldwide.
"The Palm Tungsten W handheld provides all-in-one connectivity capability for the busy, mobile professional and offers a platform for the development of mobile wireless enterprise solutions," said Todd Bradley, president and chief executive officer of Palm Solutions. "This handheld was designed as a versatile messaging device to aid mobile executive productivity. The Palm Tungsten W delivers what matters most for our business customers -- messaging, communication and access to company data."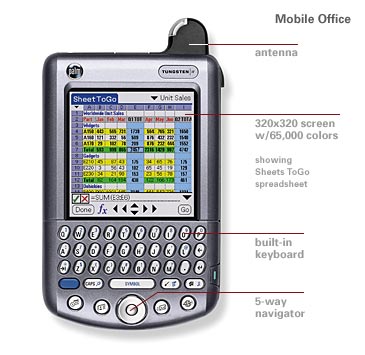 Secure Wireless Email and Messaging
Palm leverages Texas Instruments' advanced wireless GSM/GPRS technology to provide connectivity in the Palm Tungsten W handheld. The Class 10 GSM/GPRS wireless radio powered by TI's TCS2100 baseband processor offers one of the fastest data-transfer rates available over GPRS, for quick wireless access to email and web-based content within the networks' coverage area. Users can easily type emails or send SMS text messages using the built-in keyboard. Giving customers what they want in a messaging device, the Palm Tungsten W handheld ships with the most powerful battery in a Palm handheld to date: a lithium ion battery that provides up to 10 hours of talk time.
The Palm Tungsten W handheld ships with Palm VersaMail(TM), Palm's new personal email software for POP and IMAP email accounts that lets users send, receive and manage email on their handhelds. Key features include the ability to download and view the text of Microsoft Word documents and HTML email attachments, advanced folder and filtering capabilities, the flexibility to delete many messages at one time, and easy access to common tasks such as forwarding email and moving messages. Windows PC synchronization support enables automatic conversion of most Microsoft Office documents using DataViz Documents To Go. Users can synchronize email with Microsoft Outlook, Outlook Express, Lotus Notes 5.0, and Eudora.
Color Display and Built-in Keyboard
Unlike mobile phones with small screens, the Palm Tungsten W handheld is differentiated by offering a large, high-resolution, 65,000-color 320 x 320 pixel screen.
New Phone Application and Network
The Palm Tungsten W handheld integrates the power of a Palm handheld with the functionality of a mobile phone, packing in useful features such as Quick Connect, which allows users to easily make phone calls from the Palm Address Book without using the stylus. With the Palm Tungsten W handheld, users can use features found in mobile phones today, such as speed dialing, caller ID, call forwarding, 5-way conference calling, and call-history logs.(2) In addition, users can access custom functionality, such as redial reminders and call notes, which integrate with the Palm Address Book. Palm Tungsten W handheld users can talk on the phone while editing documents, locating addresses, skimming a presentation, taking notes from a conversation or even simultaneously sending an SMS message.
The high-end Palm Tungsten W handheld will ship with tri-band GSM/GPRS wireless radio, making it a steadfast choice for international enterprises and executives who travel.(3) The Palm Tungsten W handheld is one of the few handhelds today offering tri-band functionality.
Software Applications
The Palm Tungsten W handheld runs Palm OS(R) 4.1.1 on a Motorola Dragonball VZ 33mHz processor. It comes bundled with more than a dozen productivity, communication and entertainment applications. A complete list and description of applications is available at www.palm.com/trytungsten-w.
The Palm Tungsten W handheld allows access to the Internet with an active wireless data account, and to corporate intranets where compatible with a corporation's network security.
Expansion
Complete with the Palm Expansion Slot for SD Card, SDIO and MultiMediaCard media, the Palm Tungsten W handheld lets users back up their information, add more memory, access custom content, run applications on the expansion cards, or use accessories, such as a camera or the Palm Bluetooth Card (sold separately). Customers also can attach peripherals via the Palm Universal Connector, including a GPS receiver, MP3 player or 802.11 sled.
Pricing and Availability
The international estimated street price for the Palm Tungsten W handheld is $549 (U.S.) without wireless service. The price will vary based upon network operator and sales channel. The Palm Tungsten W handheld is scheduled to be available in the United States in the first quarter of 2003. An Internet service provider account and data service may be required for Internet and email based upon carrier; these services may need to be purchased separately if not offered by the network operator.
Article Comments
(48 comments)
The following comments are owned by whoever posted them. PalmInfocenter is not responsible for them in any way.
Please Login or register here to add your comments.

Comments Closed
This article is no longer accepting new comments.