Love in the Time of Technology
Friday, February 14, 2003 11:25:50 AM
Some social commentators say technology isolates people, but the lives of handheld users tell a different story, not yet captured by trend watchers and academic studies. Savvy couples from coast to coast use technology to organize romantic time together, express feelings or simply communicate.
A Santa Cruz, Calif., groom, who had a reputation for showing up late to everything, heard an alarm go off on his Palm handheld on the day of his wedding. He pulled his Palm handheld out of his pocket to see that his bride-to-be had set a "get married" alarm. He high-tailed it to the church.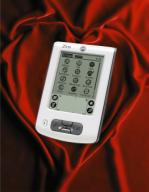 With the approach of Valentine's Day, such stories illustrate high-tech expressions of love and romance. Now, more than ever before, people are turning to their Palm handhelds to make dates, plan honeymoons, better care for each other and set aside time to get cozy. These people are fast-food restaurant owners, police officers, physicians, stay-at-home moms and dads, and more.
A Palm m515 handheld user from New Jersey and her husband used their handhelds to plan their wedding and honeymoon late last year. Now married, they use DualDate, an application that lets users synchronize calendars and view two calendars side by side, to coordinate activities and travel schedules. They beam each other notes and information.

A couple kept track of their Disneyland honeymoon plans on a Palm handheld, while another couple used a handheld to direct them to bed and breakfast inns on their California Coast honeymoon.

A NYPD detective suffered a debilitating accident on the job and lost the ability to remember details short term. His "wonderful wife" bought him a handheld, which now does the remembering for him.

The wife of a physician and proud papa gave her husband a Palm handheld for Christmas. He uses it for work all the time, but his favorite use is to carry around photos of his new daughter on his handheld so he can show everyone he meets.

A stay-at-home-dad uses his Palm handheld to signal time for school and bath time. How? He plays "Wheels on the Bus" and "Splish, Splash."

A doting husband gave his interior decorator wife his Palm m505 handheld. He spent an entire day transferring the information from her out-of-date paper organizer, which "had sticky notes popping out of it like a porcupine." She coordinates her client requests, kids' soccer schedules, ballet lessons, meetings, and more.
For Valentine's Day, the life of the romantic technology user is a little sweeter thanks to developers who have created more than 16,000 applications for the Palm OS(R) platform. Applications such as Dating 1.0 allow users to keep track of pertinent dating information, and the Love Calculator calculates the probability of a successful relationship between two people. These dating and romance applications and more are available from www.handango.com and www.palmgear.com.
As a topic for discussion today, how do you use handheld and mobile technology to keep in touch with loved ones?
Article Comments
(22 comments)
The following comments are owned by whoever posted them. PalmInfocenter is not responsible for them in any way.
Please Login or register here to add your comments.

Comments Closed
This article is no longer accepting new comments.