Palm Xerox Patent Quarrel Continues
Friday, February 21, 2003 10:45:27 AM
Palm Inc. today announced that the United States Court of Appeals for the Federal Circuit affirmed a decision by the District Court of the Western District of New York that Palm infringed a Xerox Corp. patent. But the Court of Appeals also remanded the case back to the District Court to examine the validity of the patent in question, which gives Palm another chance to challenge the case.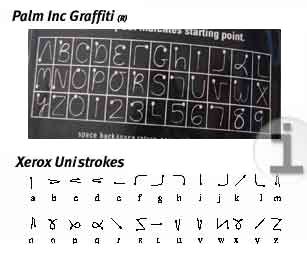 Xerox filed the suit in April 1997 against U.S. Robotics, then the owners of Palm Computing, alleging that Palm's Graffiti(R) handwriting recognition software infringed a Xerox United States patent relating to computerized recognition of handwriting.
Xerox's input technology is called Unistrokes and was patented in 1997.
"We find no error in the district court's infringement analysis, and we affirm that aspect of the district court's decision" the court said in its decision.
In remanding the case to the District Court, the Court of Appeals yesterday also asked the lower court to conduct a complete validity analysis of Xerox's patent in question. While the Court of Appeals affirmed the District Court's conclusion that Palm infringes the claims of the patent, it noted that the infringement was based on a broad construction of the patent, which "has implications for the issue of validity." The Court of Appeals stated in its opinion that Palm "has made strong arguments that the asserted claims, as construed, are invalid . . ."
As a result, the federal appeals court sends the case back to Judge Michael Telesca, U.S. District Court for the Western District of New York in Rochester, for further study, which gives Palm a chance to argue its position further. In Dec 2001, Judge Michael Telesca declared that Xerox's patent is "valid and enforceable", and that Graffiti does infringe on it.
"We are delighted that the Court of Appeals has overturned the summary judgment with respect to the validity of the patent," said Eric Benhamou, Palm chairman and chief executive officer. "This ruling recognizes the strength of Palm's arguments with respect to the fundamental question of validity."
Because of the ongoing lawsuit, PalmSource decided to explore their options and commissioned studies on alternative methods for PDA data input. They concluded that Jot was the superior choice over graffiti because it allows for a more natural and intuitive method of data input. In January, PalmSource announced that it had licensed and enhanced CIC's Jot for Graffiti 2. Even if the final decision turns out in Palm's favor, they are now fully committed to Grafitti II as the next generation input method.
Article Comments
(38 comments)
The following comments are owned by whoever posted them. PalmInfocenter is not responsible for them in any way.
Please Login or register here to add your comments.

Comments Closed
This article is no longer accepting new comments.