QuickOffice v7 Delivers Native File Formats
Thursday, February 27, 2003 11:08:10 AM
Cutting Edge Software has released a public beta of Quickoffice Premier Version 7.0. The new release is the first and only available Palm OS Office suite to include support for native PC-created Microsoft Word, Excel, and PowerPoint file formats. Support for native file formats is provided for files saved on expansion storage cards, or those received via infrared beaming, through Bluetooth file transfers, or as e-mail attachments.
"Quickoffice Premier represents a major improvement in mobile e-mail for Palm Powered devices," said Michael Mace, chief competitive officer for PalmSource, Inc. "By enabling users to open Microsoft Office files without converting them first on a PC, Quickoffice Premier extends the Palm OS advantage in working with Microsoft Office files."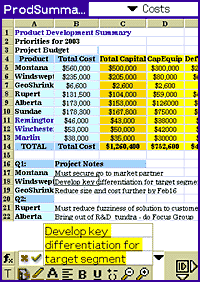 Quickoffice Premier supports any device using Palm OS 3.5 and above including the latest Palm OS 5 handhelds. In addition, its total memory requirements are less than the leading competitor's applications that lack native support. Quickoffice Premier achieves outstanding performance; quickly opening native Office 97 and later format — even on smartphones or handhelds using older 33MHz Motorola Dragonball processors. Furthermore, the Premier edition of Quickword enables users to view, edit, save, and create files fully compatible with Word 97, 2000, or XP on the device itself.
The benefits of native file support include the ability to seamlessly exchange files between Palm OS and Pocket PC handhelds and Macintosh or Windows PCs, whether wirelessly or transferred via removable expansion storage media.
Quickoffice Premier supports opening native Word, Excel and PowerPoint files from all removable media types. The native file access provided by Quickoffice Premier antiquates past methods requiring handheld device users to rely upon translation of each individual file on the PC before installing to a handheld device. Users can now open, create and share Word, Excel and PowerPoint attachments received via e-mail directly on a Palm Powered handheld with e-mail solutions like Snapperfish Ltd's SnapperMail.
The Quickoffice Premier public beta is available for purchase at Quickoffice.com and PalmGear.com. There is a 15 day demo version available. The title retails for US$49.95.
Article Comments
(38 comments)
The following comments are owned by whoever posted them. PalmInfocenter is not responsible for them in any way.
Please Login or register here to add your comments.

Comments Closed
This article is no longer accepting new comments.