Palm OS licensed to Aceeca
Tuesday, May 6, 2003 11:02:43 AM
PalmSource today announced that Aceeca Limited, a New Zealand electronics company has licensed the Palm OS. The company is creating a diagnostic measurement handheld to address the needs of enterprise and industrial instruments markets.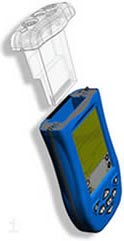 Aceeca's new mobile handheld device, called the Meazura, features a proprietary expansion slot, called the MZIO, that allows third party developers to add custom modules. MZIO is a proprietary interface developed by Aceeca to specifically meet the requirements of interfacing sensor signal conditioning circuitry as well as external memory cards to the main microprocessor and internal memory. The MZIO provides developers with various options for communications with the system processor and memory and minimizes the amount of development effort required to interface with virtually any sensor.
These mobile sensors can enable industry agencies to monitor things like vibration, displacement and temperatures and provide mobile in-the-field measurement solutions for a wide range of industries, including agriculture, automotive, aviation, geology, machinery maintenance and medical. The device will also allow software developers to create applications for a wide range of uses, including calibration, conductivity, water currents, flow, force and torque, gas, humidity, light, medical, oxygen, PH/ion, power, pressure, sound, temperature, vacuum, vibration, voltage and water quality.
The Meazura has a rugged industrial strength design, the MZIO expansion capability, interchangeable measurement modules, IRDA, RS232 and USB communications and wireless communication options. It will run Palm OS 4.1 and use a 33mhz Dragonball chip with 16mb of ram and 4mb of flash memory. It will be powered by a 1900mAhr Lithium Ion rechargeable battery.
With Meazura, Aceeca is helping to create a new class of products called Industrial Digital Assistants, or IDAs. The customizable Meazura device is expected to be available in June 2003, pricing is not yet known.
Article Comments
(30 comments)
The following comments are owned by whoever posted them. PalmInfocenter is not responsible for them in any way.
Please Login or register here to add your comments.

Comments Closed
This article is no longer accepting new comments.