Palm OS 6 To Be Released in Late 2003
Wednesday, May 7, 2003 12:59:28 PM
According to new statements out of PalmSource, Palm OS 6 will be released to licensees before the end of late 2003. The new version will focus on wireless technology standards, security and multimedia.
Update: Possible screen shots of Palm OS 6 have been posted.
Albert Chu, PalmSource's VP of business development to News.com, "PalmSource expects to debut major OS releases every 12 months to 18 months after the first hardware ships."
Palm OS 5 was released to licensees in June of 2002. Devices that made use of the new operation system became available in October of the same year.
Developers at the conference are being given a sneak preview at Palm OS 6, in order to outline long term product plans and strategies for using the new os. PalmSource expects to have applications that can take full advantage of OS 6 ready when devices running it become available.
Focus on Wireless and Security
PalmSource CEO David Nagel commented at the PalmSource Developer Conference, "The operating system (Palm OS 6) was designed nearly from the ground up for wireless capabilities, with a focus on security for wireless data transfers." He went on to say that PalmSource is committed to supporting all of the current main wireless standards and that PalmSource has put a major emphasis on building the most secure OS environment.
In previous talks about the upcoming OS Nagel stressed that Palm OS 6 will focus on next generation communications and frameworks for new and upcoming technologies. Specifically, scalable communications, more robust security features, a new multimedia framework with a scalable graphics engine, interchangeable I/O features (such as the ability to incorporate many different methods of data input) and a new messaging framework.
Developers will also be able to write fully ARM native applications. With OS 5 developers have had to use armlet's, or snippets of ARM code, to speed up applications to take advantage of ARM processors. OS 6 will also include Multi-processing/threading features, web services (XML/SOAP), a reference Java VM and the PalmSource proxy-less web browser.
Update: PIC has received what might possibly be a early screen shot of Palm OS 6. The two images show a revised interface with a new UI look, form buttons and a soft input area (aka virtual graffiti). The image on the left appears to show an updated version of the datebook application and to the right, the main application launcher showing time, sound controls and a battery meter.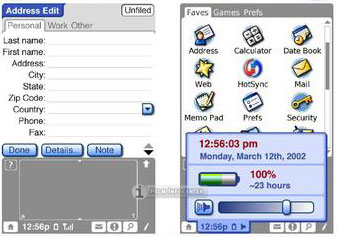 PIC could not confirm if the images are indeed from OS 6. There is a possibility they are from an early design concept.
Article Comments
(214 comments)
The following comments are owned by whoever posted them. PalmInfocenter is not responsible for them in any way.
Please Login or register here to add your comments.

Comments Closed
This article is no longer accepting new comments.

Only the first 50 comments are displayed within the article.
Click here for the full story discussion page...