SilverScreen Launcher v3 Released
Thursday, July 24, 2003 11:56:26 AM
PocketSensei has released SilverScreen 3.0, an upgrade to the popular application launcher. The new version features a pop-up tools set, customized icons, background images and sounds effects.
SilverScreen retains the simplicity and familiar layout of Palm's application launcher while seamlessly incorporating new functionality and a stylish appearance. The software facilitates application management by employing intuitive drag-and-drop access to commonly-used functions that reside on a "pop-up" tools sheet. A highly-refined interface exploits the graphic capabilities of both color and grayscale Palm devices.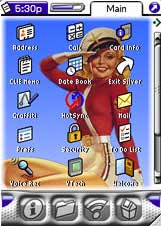 SilverScreen 3.0 adds the ability to display date-driven Ticker Tapes within the launcher environment. Initial offerings include tapes for economic events, primetime TV listings, MLB games and famous birthdays. More tapes will be added over the coming months along with updates to the current lineup. The new version also allows GIF and JPEG images to be read directly into the Pix sheet™ slideshow or to use on OS5 devices as backdrops. Zound FX bring customization to the audio dimension on the Palm Tungsten and new Zire models, .
SilverScreen provides full support for expansion cards. Launching and categorizing items on expansion media is seamlessly integrated along with the ability to copy and move files to and from the handheld.
SilverScreen 3.0 sells for $24.95 and entitles customers to all 3.x versions of the software free of charge. Registered SilverScreen customers can upgrade (with the same entitlements as the full purchase) for $9.95 or update for free over an existing registered SilverScreen if purchased after 8/1/2002.
"Version 3.0 continues the SilverScreen tradition of the ultimate in customization," said president Bohm S. Kim. "Users may choose their favorite look for the battery meter, application icons, pop-up sheets, fonts, scroll bar, palmtop pix and on soundstream-compatible devices even sound effects. We continue to support the widest range of Palm OS devices including monochrome, color, hi-res and extended displays. SilverScreen showcases the next generation of interface design and represents our tireless pursuit of marrying gorgeous looks to an extremely intuitive and powerful feature set."
SilverScreen, in its fourth year of release, has been a continuous occupant of the top ten lists of the major Palm Computing software Web sites. Over the last year it was a top software download and best-seller at both PalmGear and Handango. Articles featuring SilverScreen have appeared in numerous trade-magazines, Web sites, and the Wall Street Journal. In a May 2002 poll at Palm Infocenter, SilverScreen was chosen as the favorite Launcher replacement.
Article Comments
(22 comments)
The following comments are owned by whoever posted them. PalmInfocenter is not responsible for them in any way.
Please Login or register here to add your comments.

Comments Closed
This article is no longer accepting new comments.