Laser Projection PDA Keyboard in the Spring
Friday, January 2, 2004 11:16:45 AM
PDA accessory company, iBiz, CEO recently made an apprearance on American TV and announced the company would be shipping the first Laser projection keyboard for handhelds sometime in the first quarter 2004.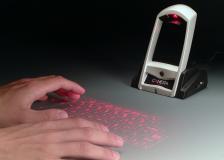 The iBIZ Virtual Laser Keyboard attaches to PDAs and projects the image of a full-size keyboard onto the surface of the desk where the PDA is placed, making it easy to input text without a physical keyboard.
Jane Wells, CNBC Correspondent, said the Virtual Laser Keyboard is "an accessory that embeds laser-emitting as lens, infrared matrix that is projected out to a flat surface ... as you type into it ... it reflects the image back to a small camera that sits inside of the device and it registers a character." Wells also said, "It even makes a little tapping noise to make the whole experience more life-like."
"There are no mechanical moving parts whatsoever in the Virtual Laser Keyboard," said Ken Schilling, President & CEO of iBIZ Technology Corp. "It provides a projected image that is the perfect portable input device for PDAs. It's similar in responsiveness to regular keyboards, but extremely futuristic looking."
A company called Canesta was previously demonstrating the technology at the SIGGRAPH 2003 Conference In San Diego, CA. Two other companies, VKB and Virtual Devices are also working on similar technology.
iBIZ will exhibit and showcase the Virtual Laser Keyboard at the International Consumer Electronics Show 2004 in Las Vegas from January 8th - January 11th, 2004. The Virtual Laser Keyboard is compatible with Palm, Pocket PCs, laptops and desktop PCs. The Virtual Laser Keyboard will be available for $99.99 from major retailers, e-commerce sites, and iBIZ Technology's own e-commerce site in 1st quarter 2004. An upcoming version for cell phones will be available in 4th quarter 2004.
Article Comments
(32 comments)
The following comments are owned by whoever posted them. PalmInfocenter is not responsible for them in any way.
Please Login or register here to add your comments.

Comments Closed
This article is no longer accepting new comments.