Sony Shows New Software Concept at CES
Thursday, January 22, 2004 12:34:42 PM
At this years Consumer Electronics Show in Las Vegas, Sony had their current line up of clies on display as well as a new "prototype" software concept . The new software concept builds on the classic Palm OS PIM functionality, and adds a new level of multimedia and organizational functionality to the personal entertainment organizer. Read on for an overview and live pictures.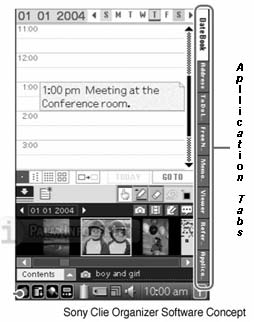 The new software concept was being shown in prototype form at CES. Sony wanted to gain feedback on the application suite, but would not confirm if it would be included with a future handheld. Confirmation came early when the FCC posted details on three new Clie's due out soon, the Clie TH55, TJ27 and TJ37. The user manual of the TH55 indeed confirms that the new Clie Organizer software will be included on select future Sony handhelds.
According to the desctipion provided by Sony, "the CLIE Organizer is an essential application that manages all applications installed on your CLIÉ handheld." What this means is simply, you can jump to an application from the dedicated application tabs which include the Date Book, Address Book, To Do List, Free Notes, Memo Pad, Viewer, Reference, and Applications, which acts as a customizable launcher.
The Clie Organizer is much more than an enhanced datebook, it is a highly integrated application suite that by default takes over the home button and is meant to be a launcher, organizer and multimedia gallery in one. Sony also includes a new Clie Organizer desktop component to sync and manage the new suite with a PC. Users always have the option of using the Clie launcher, the standard Palm OS launcher or a third party app if preferred.
The default view goes to the current date in the datebook. The next time you turn on your clie, the last screen viewed of CLIE Organizer is displayed. The datebook has been enhanced in that appointments or datebook entries are now "objects" that can be dragged around to reschedule or alter the time, and there are a number of other enhancements as well.
You can now directly write notes overtop the day in the datebook in your own handwriting, as a a quick way to jot down a note or set future reminder. The software automatically stores the handwritten memo on the current date/time you scribble over. New multimedia options allow you to drag photos, movie clips or audio files objects and associate them with a datebook object or appointment. For instance, if you have an appointment setup with Bob at 2pm, you could attach a photo of Bob and voice memo about the appointment, so you remember what Bob looks like and have an audio reminder of what you wanted to discuss during the meeting.
Some other features highlights from the user manual include:
Date Book
You can manage your schedule. You can also enter handwriting or put pictures and stickers.
Address Book
You can manage names, addresses, or telephone numbers. Multiple addresses can be listed with pictures attached.
To Do List
You can manage tasks and events. Tasks and events can be listed, given priority, or displayed by category.
Free Notes
You can take handwritten memos. Stickers, pictures, voice memos, and movie files can be attached to memos.
Memo Pad
You can take text format memos. Text files created on your computer can also be read.
Viewer
You can display the list of pictures, movie files, voice memos, and handwritten memos. You can also tap the files to view or play.
Reference
You can use some reference items, such as [Conversion Table], [Sizes], and [Temperatures and Precipitations], for useful information. New items can be added later.
Article Comments
(101 comments)
The following comments are owned by whoever posted them. PalmInfocenter is not responsible for them in any way.
Please Login or register here to add your comments.

Comments Closed
This article is no longer accepting new comments.

Only the first 50 comments are displayed within the article.
Click here for the full story discussion page...