New GSPDA Xplore G88 Smartphone
Saturday, February 21, 2004 5:05:47 PM
updated Group Sense PDA Limited (GSPDA) today officially announced the G88 Palm Powered smartphone. The new model is very small and lightwight, it runs Palm OS 4.1.2 and includes a 16 bit color screen and built in camera.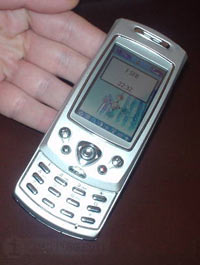 Xplore G88
Following the successful Palm Powered Xplore G18 launched last year, the Palm Powered G88 integrates traditional Palm OS PIM functionality and telephony features in a sleek and compact form factor. The Xplore G88 runs Palm OS 4.1.2 and features a built-in 320 x 240 digital camera with digital zoom; 16 MB RAM/16 MB ROM/22MB Flash Internal Memory Card; high quality color 2.2 inch D-TFD 65K colors LCD screen; and SMS / MMS / WAP / e-mail / Java support.
It also features a new slide hard numeric keypad and one-handed navigation 5-way jog dial to fit the natural habits of mobile phone users. GSPDA reports that it is currently talking with several operators to bring the G88 to market this summer.
"The modular architecture of the Palm OS platform allows GSPDA to create innovative smartphones for the growing wireless market," said Francis Li, executive director marketing and business development, GSPDA. "We will continue to collaborate with PalmSource to enrich our wireless product offerings and expand our reach into new market segments."
"We believe that the new G88 demonstrates GSPDA's continued track record to bring innovative and easy to use Palm Powered smartphones to market," said David Nagel, president and chief executive officer of PalmSource. "GSPDA is not only an innovator in Palm Powered smartphone design, they also embrace their development efforts with a cutting-edge time to market approach."
A few pictures of the new unit were taken at a recent PalmSource press conference in Europe. The press conference itself was for the new PalmSource development tools.
GSPDA Xplore G18
The current Xplore G18 is currently on sale in Hong Kong, Singapore and other locations in Asia and Europe. Its dimensions are 100 x 48 x 21.1 mm (3.9 x 1.9 x 0.8 inches) and it weighs approximately 105 grams (3.7 ounces). According to a GSPDA spokesperson a US GSM version of the G18 is also in the works, but a release date or carriers have not yet been announced.
Thanks to Nghia for the tip!
Article Comments
(16 comments)
The following comments are owned by whoever posted them. PalmInfocenter is not responsible for them in any way.
Please Login or register here to add your comments.

Comments Closed
This article is no longer accepting new comments.