Tungsten C Update 2.0 Released
Tuesday, March 02, 2004 9:31:34 AM
palmOne has released a second user installable ROM update for the Tungsten C handheld. The update new support for Wi-Fi roaming, a digitizer fix and other wireless bug fixes.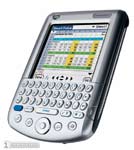 The Tungsten C Update 2.0 (Revision C) provides the following:
Enhancements to intra-campus connectivity/roaming: T|C ROM Revision B has a bug that disrupts connections while roaming from one access point to another with the same SSID and serving the same subnet (i.e. campus environments). Revision C allows roaming to be configured. Users can set how often they want to scan and switch to a closer access points with better signal strength. This setting is available from the Options menu in the Wi-Fi preference panel.

Configurable timeout value for Wi-Fi connections: Users may now configure how long Wi-Fi connections will stay active (defaulting to Auto-Off power setting, or 5/10/15 minutes). The 5, 10, or 15 minute setting will keep the handheld active/on and connected until the timeout expires. This is useful for hotspot users that utilize wireless service providers that charge each time a connection is made. This setting is available in the Wi-Fi preferences panel.

Corrections to DHCP Renewal Requests: Invalid parameters were being sent in DHCP renewal requests causing them to be rejected by some access points. This caused the handheld to be prematurely disconnected from the network. Although this did not affect many users, it was a hindrance for some and was corrected.

Digitizer Fix: For some units, a bug in the digitizer prevented the very bottom of the touch screen (the bottom 10 pixels or so) to become desensitized to stylus taps.
palmOne recommends users perform a hotsync prior to installing the upgrade. It requires at least 20 MB of free space to install and should be done on a full charge. The current release is only for U.S. and Canadian versions, an international update will be available in mid-March. There are both windows and macintosh versions of the installer, users should read the full instructions before proceeding with the update.
Thanks to Craig Bowers for the tip.
Find the lowest Price on a Palm Tungsten C
Article Comments
(32 comments)
The following comments are owned by whoever posted them. PalmInfocenter is not responsible for them in any way.
Please Login or register here to add your comments.

Comments Closed
This article is no longer accepting new comments.