Palm CEO Claims to Have Never Used an iPhone
Monday, January 11, 2010 9:08:29 AM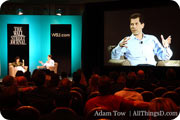 In an interview at CES last week Palm's CEO made some eye raising remarks about his former employer that have caused more than a few industry watchers to do a double take. When asked directly about how Palm viewed the competition with Apple, Jon Rubinstein told WSJ's Kara Swisher that he "doesn't pay much attention to Apple" and he went on to further proclaim "I don't have an iPhone. Actually, I've never used one."
Ruby's frank subterfuge on Apple is obviously getting the most play in the blogosphere, however he did make some other comments that reflect his current thinking on the status of Palm Inc., webOS and their overall progress. In the thirty minute interview he also talks about the plan for Palm's resurgence and the foundations they have built with webOS. He muses about how the past two year period has been all about the company's transition, while he looks ahead at this year as the transformational one.
Article Comments
(36 comments)
The following comments are owned by whoever posted them. PalmInfocenter is not responsible for them in any way.
Please Login or register here to add your comments.