Class Action Suit Filled Over webOS Backups
Tuesday, December 8, 2009 10:29:46 AM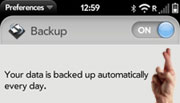 A new class action lawsuit has been filed against Palm Inc. and Sprint in the U.S. District court over issues with the webOS backup system. The suit alleges that Palm Pre customers have unnecessarily suffered catastrophic data loss including their contacts, calendars and other personal information as a result of failed backups.
In this specific case a Palm Pre customer, Jason Standiford, exchanged his phone under warranty at a local Sprint store. Mr. Standiford had already gone through three previous warranty exchanges for his Pre due to various hardware issues. To summarize, on his fourth exchange a Sprint store clerk "permanently deleted" his only backup available and the Palm profile restoration subsequently failed to recover a majority of Standiford's data. After many trials, it took three weeks for a Palm technician to partially restore some of his missing records.
The suit claims that each day information is backed up it wipes out the previous day's information, inadequate to ensure the information isn't lost. It also does not fully backup the entire contents of the device. This has been a common complaint on many online forums and the suit goes onto state that this is a "frequent experience" for users switching from one webOS device to another.
The full lawsuit background and paperwork can be read online here. (.pdf link)
Article Comments
(9 comments)
The following comments are owned by whoever posted them. PalmInfocenter is not responsible for them in any way.
Please Login or register here to add your comments.