Jeff Hawkins: Phones to Replace PCs
Monday, June 7, 2004 1:42:41 PM
A recent article in Newsweek looks at the long term and cultural changes brought about by the widespread adoption of mobile phones. The article also has a number of quotes and insights from Jeff Hawkins who predicts the PC will give way to smartphones.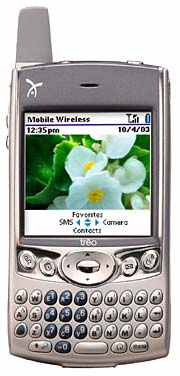 The article titled Your Next Computer looks at the trends behind smartphone adoption and speculates whether the mobile phone will eventually replace the desktop computer.
From the article, PalmOne's Jeff Hawkins thinks so. The inventor of the Palm Pilot and the Treo keeps a desktop PC and a thin Sony Vaio laptop in his office. Yet he waves at both dismissively, as if they were heading for the dustbin of history. Within the next few decades, he predicts, all phones will become mobile phones, all networks will be capable of receiving voice and Internet signals at broadband speeds, and all mobile bills will shrink to only a few dollars as the phone companies pay off their investments in the new networks. "You are going to have the equivalent of a persistent [fast] T1 line in your pocket. That's it. It's going to happen," Hawkins predicts. The computer won't go away, he says, but it might fade to the background, since people prefer portability and devices that turn on instantly instead of having to boot up.
Thanks to Gaurav for the tip.
Article Comments
(40 comments)
The following comments are owned by whoever posted them. PalmInfocenter is not responsible for them in any way.
Please Login or register here to add your comments.

Comments Closed
This article is no longer accepting new comments.