Donna Dubinsky Resigning from Palm's Board
Tuesday, February 3, 2009 2:38:35 PM
Donna Dubinsky, former Palm CEO and one of the original founders, is planning to resign from her seat on Palm's board of directors. Elevations recent additional $100 million equity deal also included the right for the investment group to appoint an additional director for election on Palm's Board.
Palms recent 8-K SEC filing on the matter, states that the board wishes to maintain its current size and Donna Dubinsky offered to resign immediately in advance of the election. The filing states that Ms. Dubinsky's offer to resign as a director was not the result of any disagreement.
In Donna's place, Elevation has nominated Rajiv Dutta for election to the Board. Mr. Dutta recently retired as the President of eBay Marketplaces and Executive Vice President of eBay Inc. in October 2008 and as a member of eBay's board of directors in July 2008.
Palm's Board is expected to meet shortly to consider Ms. Dubinsky's offer to resign and Mr. Dutta's election to the Board.
About Donna Dubinsky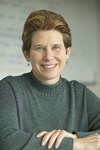 From Palm's Board Committee bio:
Ms. Dubinsky was a co-founder of Handspring and the Chief Executive Officer and a director since the company's founding in July 1998. She served as President and Chief Executive Officer of Palm Computing, Inc. from June 1992 to July 1998. From 1982 to 1991, she was with Claris Corporation, a subsidiary of Apple Computer, Inc., and with Apple Computer, Inc., where she served in a number of logistics, sales and marketing positions, most recently as Vice President International of Claris from 1987 to January 1991. Ms Dubinsky is also a trustee of the Computer History Museum. She holds a B.A. degree in history from Yale University and an M.B.A. from the Harvard Graduate School of Business Administration.
Ms. Dubinsky currently serves as the CEO of Numenta, the company she co-founded with Jeff Hawkins in 2005 to commercialize his ideas on technology derived from Hawkins' research in neuroscience and brain theory.
Article Comments
(48 comments)
The following comments are owned by whoever posted them. PalmInfocenter is not responsible for them in any way.
Please Login or register here to add your comments.