Sprint Treo 650 Orders Begin to Ship
Thursday, November 18, 2004 6:07:19 PM
Reports are now coming in that Sprint customers who pre-ordered are now beginning to receive the new palmOne Treo 650 smartphone. Sprint is currently the only carrier taking orders for the new Treo 650.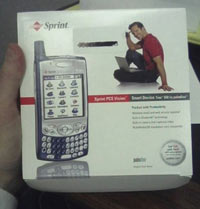 Treo Central as well as Engadget have posted reader photo reports of the new smartphone's arrival.
The Sprint Treo 650 can be pre-ordered directly from palmOne here. Prices start at $449 USD after a new service rebate credit, agreeing to a one year service contract will qualify for a $100 credit rebate. The CDMA version can also be purchased without a new plan for $599. This offer requires purchase and activation before 1/15/05.
About the palmOne Treo 650
Operating on the enhanced Sprint Nationwide PCS Network, the Treo 650 has 23 MB of user-available memory and is powered by the Palm OS 5.4 and an Intel PXA270 312 MHz processor. Built-in Bluetooth Wireless Technology provides the ability to wirelessly synchronize with Bluetooth-enabled desktop or laptop computers and easily connect with Bluetooth headsets and car kits (sold separately). It has dimensions of 4.4 x 2.3 x 0.9 inches (11.3 x 5.9 x 2.3 cm) and weighs 6.3 ounces (178 grams).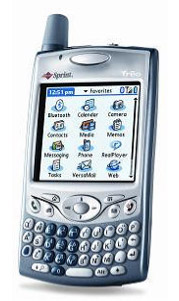 The palmOne Treo 650 by palmOne's candy-bar design has been refined with an improved backlit QWERTY keyboard with larger, flatter keys; strategic button placement for easier one-handed access; and a sharper, high-resolution color display for improved visibility in sunlight. Other user-friendly features include increased battery life (up to five hours of continuous digital talk time and over two weeks of digital standby time), a removable battery, built-in speakerphone and a non-volatile memory system that preserves data for a limited amount of time if the battery is removed or the device is drained of power.
The Treo 650 also includes a 1900 mAH Li-ion rechargeable battery that can be removed by the user. Additional replacement batteries will be sold by for $59.99 USD each. The CDMA Treo 650's phone life is rated at 5 hours of talk and 300 hours on standby. The 650 includes the new Multi-Connector for recharging and hotsyncing the Treo via a cable. Sprint business customers will also have the option to purchase a non-camera version of the device later this year.
Article Comments
(31 comments)
The following comments are owned by whoever posted them. PalmInfocenter is not responsible for them in any way.
Please Login or register here to add your comments.

Comments Closed
This article is no longer accepting new comments.