Kinoma Player 3 EX Debuts
Monday, December 6, 2004 1:33:15 AM
Kinoma has introduced Kinoma Player 3 EX with support for industry standard file formats and advanced compression technologies. Palm Powered smartphones and mobile device users can use Kinoma Player 3 EX to enjoy high quality video, CD quality audio and high-resolution photographs, all from a single memory card. The new version supports transferring a number of new formats including AAC, MPEG-4, QuickTime, DivX and MP3 files.
Kinoma Player 3 EX features MPEG-4 video compression, the same high quality video technology found in the latest digital video camera from Sanyo/Fisher and select mobile phones. MPEG-4 video compression allows more than seven hours of high quality video to be stored on a single memory card. (1)
For audio, Kinoma Player 3 EX uses AAC (Advanced Audio Compression), making it possible to pack 30% more audio in your handheld than the older MP3 standard. Using AAC audio compression, a single memory card can store over 22 hours of CD quality audio. (2) AAC audio is the featured audio compressor in Apple's iTunes software. Customers can now rip their audio CDs with iTunes and play them on their Palm Powered handheld using Kinoma Player 3 EX. And Kinoma Player 3 EX can even display the album art from many iTunes files. (3)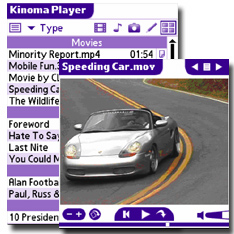 Kinoma Player 3 EX supports major digital media industry standard file formats.4 In many cases, users can take a memory card out of their digital camera, plug it into their handheld, and immediately view the video and photos using Kinoma Player 3. The MPEG-4 ".MP4" file format is featured in Kinoma Player 3 EX, as the most compact and compatible way to store your digital video. Users can also play .3GP and .3G2 files captured by the built-in camera on many mobile phones. Kinoma Player 3 EX also supports viewing JPEG photographs and some QuickTime movies, as well as the Kinoma movie file format.
Harald Popp, head of the Fraunhofer IIS Multimedia Realtime Systems Department notes, "As the leading international research lab in the field of high quality low bit rate audio coding, Fraunhofer IIS is pleased to have its audio and video technology included in Kinoma Player 3 EX. We believe industry standards including MPEG-4 video and AAC will play an ever greater role in handheld digital media, providing customers with the quality and interoperability they demand."
Even with all the advanced technology it packs, Kinoma Player 3 EX remains easy to use. Kinoma Player 3 EX offers an innovative pan, zoom, and rotate feature for video and photographs so users can quickly get exactly the view they want on their content. Pan, zoom and rotate happen immediately - even when playing video - a new user experience on handhelds that has to be experienced to be fully appreciated. Kinoma Player 3 EX remembers where you left off watching a video or listening to a song, and can automatically start from that point the next time. The user interface of Kinoma Player 3 EX also makes it easy to find and play digital media. Media can be browsed by individual media type - video, audio, and photographs - or all at once. The media browser supports sorting and a new two line detailed list view.
"Tapwave is excited to see the tremendous advances Kinoma is making in the mobile multimedia space," said Tim Twerdahl, Director of Product Management for Tapwave. "We're pleased that consumers will be able to enjoy additional media formats by using Kinoma Player 3 EX on a Zodiac."
Kinoma also introduced Kinoma Producer 3, a desktop companion application for Kinoma Player 3 EX. Kinoma Producer 3 is the easiest way to optimize the video and audio files on your Windows or Mac OS X computer for playback on your Palm Powered handheld with Kinoma Player 3 EX. Kinoma Producer 3 compresses from most popular digital media file formats - including MPEG-1, MPEG-2, Windows Media Video, Windows Media Audio, QuickTime, AVI, DV, DivX, Wav, AIFF and MP3 - into compact industry standard MPEG-4 files.5 Kinoma Producer 3 includes presets for most Palm Powered handhelds, including those from palmOne, Tapwave, Sony, and Garmin - so there's no guesswork or compression experience required to get the best possible results for your handheld.
Kinoma Player 3 EX with MPEG-4 and AAC can be purchased through the Kinoma Web site for $19.99. Kinoma Player 3 EX is compatible with all Palm Powered handhelds running Palm OS 5 (Garnet) or later and is available for download free of charge with registration. Kinoma Producer 3 requires Windows 98, Windows Me, Windows 2000, Windows XP or Mac OS X.
Release Notes: (from kinoma)
Kinoma wants to make sure you've got all the facts about our products. Digital media can sometimes be confusing, but we hope the following information will help you understand more about what our products can do.
(1) Video capacity (over 4 hours) based on 1 GB memory card using MPEG-4 video compression and AAC audio compression with a combined bit rate of 288kbps. At lower bit rates, even more video can be stored.
(2) Audio capacity (over 22 hours) based on 1 GB memory card using AAC audio compression at 96kbps. 96kbps AAC audio compression typically provides the same or better quality than MP3 at 128kbps.
(3) Kinoma Player 3 EX can play unprotected M4A audio files, but not protected audio files purchased from the iTunes Music Store. Kinoma Player EX displays album art compressed using JPEG.
(4) MPEG-4 files support AAC-LC and simple profile video. Playback performance depends on bit-rate, frame rate, device performance, and available memory. .3GP and .3G2 files with H.263 or MPEG-4 video and AAC audio supported; GSM-AMR audio is not supported. Maximum JPEG display size depends on available memory; some images may not display if sufficient free memory is not available. QuickTime movies with JPEG or MPEG-4 video compression and AAC or uncompressed audio are supported.
(5) Kinoma Producer 3 relies on the digital media software installed on the user's computer to decode input file formats. Kinoma Producer 3 supports both DirectShow (Windows) and QuickTime (Windows and Macintosh) for decoding input file formats. To decode file formats (e.g. MPEG-2 or DivX) additional third party software may need to be installed. Some digital media files are protected by DRM (digital rights management) systems which may prevent Kinoma Producer 3 from decoding them.
Article Comments
(25 comments)
The following comments are owned by whoever posted them. PalmInfocenter is not responsible for them in any way.
Please Login or register here to add your comments.

Comments Closed
This article is no longer accepting new comments.