New Palm Accessory EOL Notifications
Thursday, October 9, 2008 8:45:27 AM
After several quiet weeks following the launch of the new Treo Pro, Palm's Channel Source ResellerPro portal has posted a few tidbits of information regarding product EOL status as well as Palm's new Education Purchase program.
After being announced barely five weeks ago, Palm has unsurprisingly decided to EOL one of the Treo 800w's Palm-branded peripherals. The 3291WW Vehicle Power Adapter with micro USB plug has received its EOL notification. We covered this item's release back in late August and discussed the unnecessarily overlapping SKUs . Presumably, Palm will be updating their remaining micro USB car charger, 3437WW, to reflect its compatibility with the new Treo Pro as well as the older 800w.
The other piece of Palm accessory-related news this time around focuses on the EOL of the 3202WW Palm Hard Case for the Treo 650 and 700w/wx/p line. This comes as no surprise as the 700wx is the only Treo with the protruding antenna still readily available on the market and the rumors of its demise have been swirling for some time. I reviewed this case way back in June of 2006 and found it moderately capable for certain rugged environments, albeit extremely bulky and awkward when carried for general day to day use. Palm's online store is now blowing out their remaining stock of this case for $11.99 which makes it a fairly attractive proposition for a user in need of a heavy-duty case for an older Treo. No new accessories or product details have been revealed in this latest Reseller Pro newsletter.
Palm Education Purchase Program
Finally, the cost-cutting at Palm continues with news of cessation of the company's Education Purchase Program. Purchase claims made up through October 31st will be applicable through December 31st 2008. More details and a copy of the claim form can be downloaded from Palm here.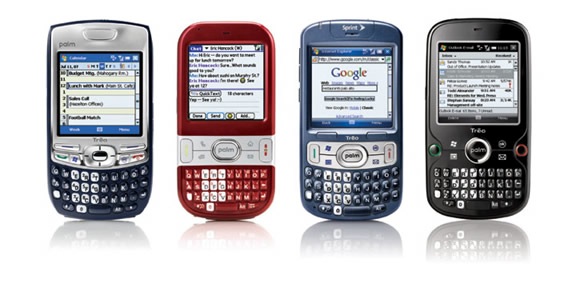 An interesting new photo of Palm smartphones is also on the latest Channelsource website showing a lineup comprised of the Windows Mobile-powered Treo 750, 800w and Treo Pro alongside the Palm OS Centro (seen above). One could read this as a not-so-subtle hint that these four models will remain Palm's only "current" models going forward into 2009 as the company looks to jettison most of its legacy Windows Mobile 5 and Palm OS devices.
Leave a comment...

Click on the
Start New Comment button
below to begin a discussion.
You must be
registered
and
logged in
to add comments.