Palm Needs a Savior Editorial
Friday, August 29, 2008 9:24:22 AM
Wired Magazine's Gadget Lab blog has published a new editorial by Brian X. Chen entitled "Palm Needs a Savior, and Treo Pro Won't Cut It". This piece takes a harsh look at Palm's new Treo Pro, especially when compared against a slew of increasingly competitive devices from HTC, RIM, Apple, and any number of handset manufacturers.
In short, Chen claims that the new Treo Pro is merely a stopgap device—a "floatation device" as he calls it—to bridge the gap between Palm's Windows Mobile-heavy 2008 and their "hopefully revolutionary" device(s) next year, presumably running the new "Nova" Palm OS replacement. In his editorial, Chen posts several notable quotes from a telecom industry analyst, a Palm spokesperson, and Peter Hoddie, the president of streaming media software developer Kinoma. The wide array of responses quoted in the article touch not only on the new Treo Pro but also Palm's current activities and future outlook.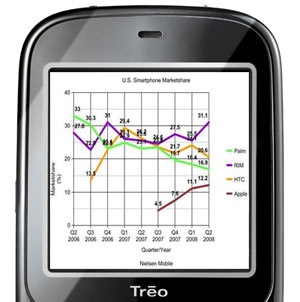 Tero Kuittinen of Global Crown Capital states that he essentially feels that the Treo Pro is terribly overpriced and most consumers will not want to pay $550 to enjoy the handful of benefits brought about by using an unlocked, unsubsidized GSM device in the United States. Furthermore, Kuittinen states, whatever future device Palm releases as its debut Nova handset will be the company's genuine make-or-break savior product.
In stark contrast, Palm's product-line manager Phil McClendon is quoted as firmly believing that the Treo Pro is well-positioned to compete against the iPhone's "casual" user base and the BlackBerry platform's inconvenient "software and networking" disadvantages. Mr. McClendon also defends Palm's decision to sell the Treo Pro without carrier support in the United States, saying that the power users targeted by the device will pay extra to own a phone unencumbered by carrier lockdowns or contractual constraints.
However, most tantalizing of all of the information revealed in the Wired piece is a brief discussion of Palm's upcoming "phone", specifically stating "…it will feature an entirely new platform and new hardware". Palm's Phil McClendon refused to comment any further when pressed for information about future Palm product releases.
Departing from the world of fact to speculate for a moment, it should be noted that last week's New York Times article referred to Palm's upcoming Nova device in the singular and did not specifically call it a "phone" or "smartphone", making some wonder if Palm had some kind of UMPC/PDA/PMP/tablet device in the works, what with the report's emphasis on "easier web surfing" and "social networking". Additionally, the warm response garnered by the Treo Pro's sleek formfactor and relatively cutting-edge specs have made some users speculate that Palm might revisit the Pro design for its first Nova device.
But if these latest tidbits revealed in the Wired article are accurate and taken literally, one can easily imagine suggest that Palm and Jon Rubinstein might have something more iPhone-esque in the works than a Treo Pro with Nova onboard.
Article Comments
(62 comments)
The following comments are owned by whoever posted them. PalmInfocenter is not responsible for them in any way.
Please Login or register here to add your comments.

Only the first 50 comments are displayed within the article.
Click here for the full story discussion page...