The NYT on the Treo Pro and Palm's Revival
Wednesday, August 20, 2008 9:00:17 AM
With the long-rumored Treo Pro now officially official, Palm users and analysts alike are cautiously awaiting the company's next move. The New York Times has posted a new piece entitled "Palm, Once a Leader, Seeks Path in Smartphone Jungle" that focuses primarily on Jon Rubinstein's role as company savior as well as the company's plans to ensure that the Centro is not a one-hit wonder.
While most of the information contained in the article will have a familiar ring to long-time Palm watchers, there are a few revealing tidbits offered by the NYT. First, the Treo Pro is said to have a "larger keyboard" than "current models". By "current models" it is unknown if the article is referring to the fairly ample keyboards between Palm's various older Treo models (680, 700-series, and 800w) or the diminutive Centro keyboard. The Pro is also said to have Apple-esque "jewel box" packaging, a break from Palm's standard small square cardboard box no-frills Treo packaging.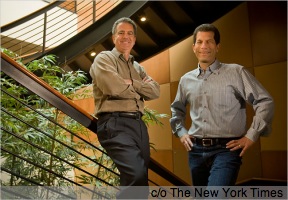 Secondly, the article offers some insight to Palm's plans for Palm OS II a.k.a. "Nova" and a new "device" (my emphasis on the singular) designed to enable easier web surfing and social networking. Another small but telling bit of information is that Palm is going to cease their oft-confusing numbering nomenclature to identify future products, accoding to Brodie C. Keast, a Palm SVP for marketing. An interesting graphic is presented within the article breaking out Nielson Mobile U.S. marketshare statistics between Palm and their main rivals such as RIM, HTC, and Apple which showcases Palm's precipitous drop in market share between 2006 and 2008, despite the rampant sales volume success of the Centro.
An interesting anecdote showing Rubinstein's critical assessment of Palm's product strategy is recounted by Stephane Maes of Palm. This interesting bit of insight is resonant of last year's Wall Street Journal article on the "podfather" that gave some insight as to the origins of the Centro, and the 11th hour design changes Rubinstein implemented just weeks after his arrival at Palm.
While it remains uncertain if Rubinstein's aggressive product line trimming and detailed engineering focus will be enough to save the company or even bring Nova to market in a timely and successful timeframe, there's no doubt that Palm's future looks brighter now than it did slightly less than a year ago as Palm prepared to quietly euthanize the Foleo. These cautiously optimistic sentiments are echoed by Palm's Keast, "The brand is not dead, it is just sleeping."
Article Comments
(21 comments)
The following comments are owned by whoever posted them. PalmInfocenter is not responsible for them in any way.
Please Login or register here to add your comments.