HOWTO: Make that palmOne Treo 650 Even Better!
Thursday, December 30, 2004 5:28:31 PM
PalmInfocenter member Derek Kessler (aka PIC's Captain Hair) submitted a interesting article that delves into the recent hacks and modifications created to fix or circumvent some of Treo 650's current limitations. A great amount of help, graphics and editing was further provided by Kent at PocketFactory.com.
Standard Disclaimer: Warning! "techie" supervision required, PIC is not responsible for any possible loss of data or warranty issues resulting from this article or anything here on in...
HOWTO: Make that Treo 650 Even Better!
By: Derek Kessler & PocketFactory.com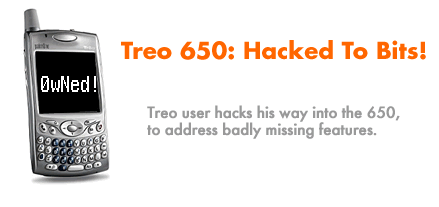 When the Treo community felt left out in the cold by Sprint disabling the Treo 650's DUN (Dial-up Networking) via Bluetooth connection, one user took matters into his own hands by writing a hack to foil Sprint's measures. A person nicknamed Shadowmite on the TreoCentral message boards discovered a seemingly simple way to workaround the problem by removing a few lines of code that prevented the option from appearing onscreen. Very clever. So clever in fact that PalmOne apparently copied it as their own creation and released it to the public for download, according to one web site. Whether this really is true or not I can't confirm.
But wait, there's more! Shadowmite was only to eager to apply his skill towards other Treo 650 limitations, such as PalmOne's missing drivers for its WiFi SDIO Card (which was apparently a move to appease the carriers). After realizing that the Treo 650 and Tungsten T5 are practically siblings internally, and the T5 already works with the WiFi SDIO card, he developed a new set of drivers that enable the 650 to work with it. I'm sure the folks at PalmOne, and the wireless carriers will love him for that. VoiP, here we come! No more wireless internet access charges.
-Kent, PocketFactory
  Treo 650 Hacked to Bits!
By Captain Hair aka Derek Kessler
Over at Treocentral.com, things have really been jumpin'. Enough people were already hyped over the recent release of the Treo 650, but several were quite disappointed that the NAND flash used for the main memory had resulted in the device having a lower effective memory, especially for those with gobs of small records, such as contacts. But there has been much rejoicing in the past few weeks for three simples reasons: Bluetooth DUN, Wi-fi capability, and patches/custom ROMs.
Bluetooth DUN
For those who are not familiar with the Treo, it has always had the capability to Dial-Up Networking (DUN), where one could use their Treo as a wireless modem for their computer, allowing them to use their ISP anywhere they could get a phone signal. When pa1mOne announced that the Treo 650 was going to included Bluetooth, the Treo community threw a big 'ole party, "Bluetooth DUN, yeah!"
Unfortunately, the first provider to get rights to the Treo 650 was Sprint, and due to their sales of PCMIA cellular cards and the associated data plans, it appears that they did not want the Treo 650 to be capable of Bluetooth DUN. While wired DUN was still an easily achieved option, the Treo community still had Bluetooth and wanted to use it. pa1mOne tells us that Bluetooth DUN was not ready for primetime on the Treo 650 and that a patch may be released in the future.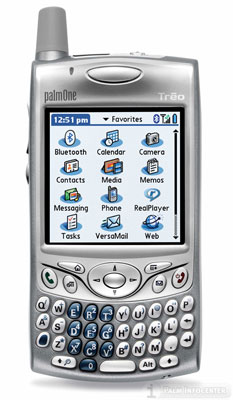 Enter Shadowmite. One day, just out of the blue, this fellow by the forum name of 'shadowmite' comes out and announces that he has hacked Bluetooth DUN! When asked how, he simply says that the DUN profile was already in the Treo 650 and fully functional. He searched through the software, found the few lines of code blocking the option from appearing on the screen, and viola, the Treo 650 is fully capable of Bluetooth DUN with any Bluetooth enabled computer or PDA. And all of this was done with a simple 2 byte patch. Yes, 2 bytes.
Wi-fi capability
pa1mOne has an 802.11b Wi-Fi SDIO card. pa1mOne has a Treo 650 with an SDIO slot. Do the math: Wi-fi card + Treo 650 = Treo with Wi-Fi. Right?
Wrong. Going along the same line as the Bluetooth DUN, pa1mOne had not released any wi-fi drivers for the Treo 650, even though they had for the Tungsten T5. Cellular radio and screens aside, both devices are practically identical, so shouldn't the Treo be more than capable of using pa1mOne's Wi-Fi card? Nope, as Voice over Internet Protocol (VoiP) threatened the amount that providers (currently the only one being Sprint) could charge for wireless minutes. If you use VoiP instead of your cellular phone, the provider can't charge you for using their network.
Thus, seemingly caving to pressure from the cellular providers, did not release a wi-fi driver, claiming that the wi-fi and cellular signals would interact in bad ways. The users of TreoCentral were boggled, "Why can the PDA2K have cellular, Bluetooth, and wi-fi built in?" Reenter shadowmite.
Shadowmite gets his hands on a pa1mOne wi-fi card and is actually able to modify it so that his Treo 650 can actually use it. It's not perfect, as it will overwrite a database needed for Vision access on the Sprint Treo 650 (and the equivalent when GSM phones come out), and the only way to get things right is with a hard reset, but it completely blew pa1mOne's garbage press release out of the water.
Patches/Custom ROMs
It's and exciting time to be a Treo-er. Or Treo-ie. Or Treo-naut. Whatever, those with the Treo 650 got a special treat. One of the board users had contacted pa1mOne, inquiring about a problem with the sound quality on his Treo 650. The way the story goes is that the tech support lady he spoke with sent him a beta version of a ROM patch to fix the sound quality of the Treo 650. Realizing that this had to be released to the Treo public, said forum member posted the patch on TreoCentral. Re-reenter shadowmite.  
So, our friend shadowmite downloads the patch and begins to deconstruct it, examining how pa1mOne did what they did. He finds a thing called the ROM loader, a powerful tool that lets the user simply modify any data to be in the Treo 650's ROM, throw it onto an SD card, and patch his/her Treo. Just like that recent neat-o iPod graphics hack.
The ROM loader was a very simple creation, consisting of a Zip file and a few other doodads. The Zip contained all of the files to be loaded into the Treo's ROM. Shadowmite successfully (and very easily, might I add) removed VersaMail, RealPlayer, and other programs from the Zip, put others in their place, and reflashed the ROM of his Treo, eliminating and adding the above stated programs. Violá, custom ROMs! And that included the sound quality patch.
Indeed, it is an exciting time to by a Treo-whatever.
---
Stay tuned for PIC's upcoming in-depth palmOne Treo 650 Review. Buy your own palmOne Treo 650 here
Article Comments
(60 comments)
The following comments are owned by whoever posted them. PalmInfocenter is not responsible for them in any way.
Please Login or register here to add your comments.

Comments Closed
This article is no longer accepting new comments.

Only the first 50 comments are displayed within the article.
Click here for the full story discussion page...