WIndows Mobile Centro Knock-Off Spotted
Tuesday, August 5, 2008 3:13:46 PM

Palm's surprisingly successful Centro smartphone has received its fair share of accolades and satisfied customers but has not earned the ultimate sign of industry respect by being deemed worthy of copying by Chinese handset manufacturers…until now. Engadget's semi-regular "Keepin' it Real Fake" series showcases clone, knockoff, and copycat electronics from the Far East. Their latest report spotlights a Chinese-manufactured and designed Windows Mobile Centro clone oddly wearing US-based OQO branding.
Almost more surprising than its actual existence is the solid feature set attached to this new Palm Centro-inspired device. If the listed specifications are correct, this smartphone sports a PXA310 CPU precisely twice as fast as Palm's Centro (634mhz vs. 312mhz), a higher-resolution 2 megapixel camera (vs. the Centro's 1.3mp), GPS, Windows Mobile 6.1 Professional powering a 320x240 touchscreen, and both Wi-Fi and Bluetooth capabilities. In fact, one of the few areas where the Centro manages to eke out a win in the spec category is battery capacity, with 1150mAh li-ion battery to the G900's 1080mAh battery pack.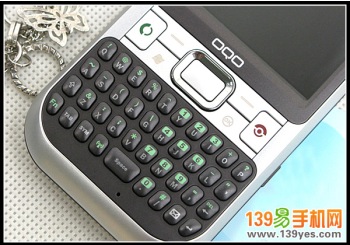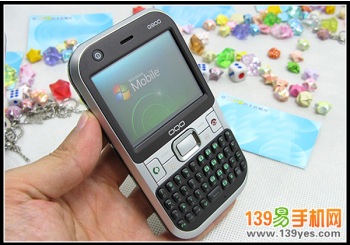 While the G9000 does look to be a physically larger device than the diminutive Centro, the indicated dimensions are essentially identical to those of the Centro. The G900's designers appear to have put the device's available space to good use with a larger, non-membrane keyboard with separate keys and what appears to be a semi-usable telescoping stylus. Additionally, the G900 employs a handful of additional buttons on the device body dedicated to power, camera & GPS functions. A 3.5mm stereo headphone jack and a dedicated reset button in the battery well are to be present, certainly to the chagrin of Palm Centro owners.
The device's manufacturer has a page here filled with photos and information about this curious handset that, despite being in Chinese, still makes for an interesting read. No word as of yet if this clone will ever see the light of day Stateside, though the unit is apparently available for order in China for Y2880.00.
Article Comments
(7 comments)
The following comments are owned by whoever posted them. PalmInfocenter is not responsible for them in any way.
Please Login or register here to add your comments.