Opinion: Why Sony should (Memory) Stick with the Palm OS
Thursday, January 27, 2005 11:26:25 AM
PalmInfocenter's frequent message board poster, The Voice of Reason, has written in with an interesting opinion piece entitled, Why Sony should (Memory) Stick with the Palm OS. Read on to here his thoughts on why Sony should plan a Clie comeback.
Opinion: Why Sony should (Memory) Stick with the Palm OS
© The Voice of Reason
January 27th, 2005

Sony made the best PDA designs of any manufacturer. (Exhibit 1: UX50, TH55, VZ90). Traditional PDAs were a dead end, and Sony spent 4 years and a few hundred million dineros ($$$) trying to find the right mix of features to take PDAs to the next level. They came tantalizingly close to the perfect portable device for adults in 2004 and could have brought out the perfect PDA in 2005. Microlaptop/MP3 player/digital camera/camcorder/PIM/video player/web browser. After 8 years of compromises, PDA nirvana was finally within our grasp.But then time ran out. Sony's CLIE group was just about six months too slow in their frenetic production schedule to save the PDA market. At least CLIEs will become collectors items pretty soon when the market finishes imploding (or will it?) by the end of 2005.
Sony's portable game system, PSP is the new golden child. It will also have email + web capability, but remember, even Gameboy had PIM ability with the right software. Gameboy was no Palm. PSP will never come close to doing what CLIE did or could have done.
Pulling the plug on CLIE at this point makes little sense for Sony for several reasons:
First of all, they've already done all the R + D and figured out the right form factors, etc. From now on, all Sony would need to do is "pull a Palm" - i.e. offer a series of incremental upgrades. Adding the latest screen, better camera, more memory with subsequent revisions wouldn't cotst Sony much in terms of engineering resources.
Secondly, Sony has now established itself as the leader among PDA manufacturers. Best quality, best features, best designs. People who know PDAs choose Sony?. Sony's market share would only continue to improve (at Palm's expense) now that Palm's quality has reached rock bottom. Sony would become "the only game in town".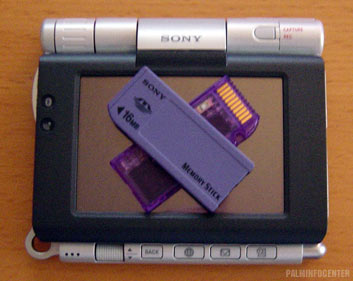 Thirdly, PSP and CLIE appeal to different market segments. CLIE users tend to have a fair amount of disposeable income and bringing them into the Sony fold would lead to sales of a lot more Sony hardware. People impressed by the slickness and build quality of CLIEs are probably a hell of a lot more likely to feel inclined to shop Sony when getting TVs, laptops, stereos, etc. The spinoff sales might even be more valuable than the actual profits from CLIE sales. (Think of CLIEs as a loss leader used to generate brand loyalty.)
Fourthly, CLIE sales help entrench Memory Stick as a major memory format. And once consumers have invested in a few Memory Sticks, they'll be more likely to buy other electronics (e.g. digital cameras) using the same format. Since it's mainly Sony that is selling equipment using Memory Stick, this would further add to their profits. I know firsthand that this strategy works - I've purchased a ton of CLIEs in recent years and initially hated Memory Stick. (Slower/more expensive/less functional than CompactFlash.) But in reality, as a data storage format it doesn't matter that much which one (CF, MS, SD) I use. So now that I already have a bunch of Memory Sticks, when I recently was looking at getting a digital camera, Sonys were strongly considered largely because of compatibility between devices.
Fifthly, (is that even a word?) abandoning the CLIE market would alienate a lot of potential Sony customers. How many angry owners of abandonware CLIEs will avoid all Sony products in the future, strictly on principle?. It happened before with Sony's Beta VCRs. Better technology and construction than VHS competitors, killed by Sony's ineptitude in getting users easy access to the media they needed to make use of their superior hardware. Sony has also annoyed a lot of people with its Draconian DRM/copy protection schemes. (Eventually Sony must understand that the genie is out of the bottle. Open formats like MP3 won, and failure to embrace these formats means giving up entire market segments. Exhibit 2: Apple's ridiculously overpriced, Zen of Palm-like, incrementally-upgraded (again, ominously Palm-like) iPod kicking the crap out of better constructed Sony offerings. Any company capable of producing the likes of the UX50 and the VZ90 should be able to blow the iPod out of the water without even trying.)
Sixthly, Sony Ericsson + PalmOS is a natural. With Nokia now dominating Symbian, a couple PalmOS phones from Sony Ericsson are long overdue, would deal a serious body blow to Nokia, would be HUGE sellers and would cost next-to-nothing to implement (the hardware and software are "off the shelf" parts).
The die is cast, but it's not too late for Sony to mold a new plan. 2005 will decide the fate of both PalmOS and PDAs in general. Any bets on how this will all turn out?
- TVoR
Article Comments
(99 comments)
The following comments are owned by whoever posted them. PalmInfocenter is not responsible for them in any way.
Please Login or register here to add your comments.

Only the first 50 comments are displayed within the article.
Click here for the full story discussion page...