Seidio Treo 755p Rubberized Hard Case Review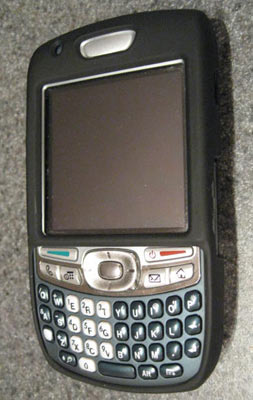 By: Kris Keilhack
July 15, 2008
Seidio has long been one of the Palm mobile community's favored peripheral sources for a variety of reasons. First and foremost among these is the variety available in Seidio's signature accessories line, with their family of slim plastic hardcases a constantly popular option. Last year I reviewed Seidio's rubberized Innocase for the Treo 700-series. While that case had a few aggravating flaws, it remained a nicely made device that frustratingly didn't quite tap its full potential (or at least the example I owned failed to). Nevertheless, I have a few fond memories of that particular case, as it brought the soft-touch paint of the then-new Treo 750 to all Treo users frustrated with the slickness of their devices' exterior.
After spending the past few months with my new Verizon 755p, I've grown to love that device's rubberized coating even more but still would like some additional protection when I don't feel like toting a leather pouch case or belt case. So I decided to purchase another version of Seidio's Rubberized Innocase for my 755p and see what improvements have been from the previous generation. Read on for the full review.
I was lucky enough to snag a like-new but previously used open box Seidio case online from a private seller. Since the item was advertised as being in like-new condition. I was able to purchase it for a good bit less than the current $29.99 asking price from Seidio.com. Had I not lucked out to find this veritable bargain, I probably wouldn't have paid full price for the Seidio case as I already have three 755p cases that I rotate between on a regular basis.
Packaging
Since this was an "as is" open box item, I cannot speak for the actual packaging. However, unless something has changed drastically, I probably didn't miss much, as Seidio generally uses basic, no frills packaging.
Case Design & Construction
Well, the case arrived and was just as thin as I was I hoping it to be. Seidio's smooth back panel remains devoid of any silly belt clips or attachment posts and makes an ideal design for easy pocketing (I generally carry my Treo in my left pants pocket). Seidio claims an overall added thickness of only 1.2mm.
Solid black remains my color scheme of choice so you won't find me lamenting the lack of day-glow colors here! While the Treo 750 and 755 come with soft-touch exterior finishes standard, there's no doubt that using a case such as this one will preserve the nice factory finish or, in the case of someone who may have dropped their Treo one too many times, this Seidio offering can make a reasonably attractive replacement shell with the same tactile feel to the exterior.

I'm pleased to be the bearer of positive news when reviewing this design in comparison to my previous 700-series Seidio case. The assembly process of this case is indeed a good bit easier than before. Whether this is due to some subtle manufacturing variances or something related to the formfactor change inherent in going from the 700 series to the 750/755 series, I cannot ascertain. But it goes tougher MUCH more easily than before. The recommended clockwise pattern of securing the tabs worked fine and no excessive pressure or trickery involving small screwdriver blades was required, thankfully. Accessing the side-mounted miniSD slot, already a slightly tricky proposition for those with short fingernails or fat fingers, it made even more difficult with this case installed. Still, with multi-gigabyte cards now widespread and affordable, I don't do the expansion card shuffle on a daily basis like I used to with a handful of 128mb and 64mb cards. I'm just glad that the side cutout is present so that cards can be swapped at all while the Treo is in the case.
As before, the interior is a glossy black that is perfectly smooth and lacks anything that might depress a key or scratch the device's finish. I was initially a bit worried that the somewhat fragile (remember the Zire 72?) soft-touch paint might get marred by frequent assembly and dismantling of the Seidio case, but 4+ weeks living with the case on a semi-regular basis has quelled my fears.
Usage Observations
What was one of my main gripes with the previous generation of Seidio Ultraslim rubberized hard case was the questionable design choice that allowed the front cross-bar to hamper touchscreen and 5-way navigator usage.
As before, the well-designed back panel permits both the camera lens and the speaker grille to be devoid of anything that might haper their operation. I had no problems removing the stylus from its silo and Seidio has even thankfully provided for a cutout for the device's integrated antenna reception. Other than some slight added difficulty when trying to tap onscreen with a finger (to be expected—this isn't an iPhone, folks!) I was delighted to not see any of the random digitizer wackiness or unresponsive navigator or touchscreen functions that last year's edition exhibited.
As a certified power user and smartphone aficionado, my daily usage habits haven't declined over the past year, so it's crucial that I always keep my high-capacity Seidio 2200mAh battery in my 755p. I experienced some severe problems last year on my 700p when trying to use three different Seidio products in conjunction with each other—their aftermarket battery door w/ reset opening, their 2400mAh extended battery and the 700p rubberized case. Due to a minute but noticeable additional bulk in the extended capacity battery, the Treo becomes slightly thicker than when the stock Palm OEM battery is installed but this case handled the higher-capacity battery with aplomb. In fact, every combination I tried of stock battery, stock battery door, Seidio battery and Seidio door worked flawlessly both in and outside of this case. The improvements in the 680/750/755p formfactor might be rather subtle, but they make a world of difference in real-world usability examples such as this.
Of course, I am not able to use my Treo in my Palm Treo Hotsync cradle when the rubberized case is installed, nor can I use the Seidio hard case in conjunction with most non-Seidio pouch or belt-clip style cases. But since I fully expect this when using any bulky add-on peripheral, this cannot be considered a major design flaw. If I truly wanted to carry my Treo on my belt with this case installed, I'd definitely purchase one of Seidio's specialized holsters such as this one.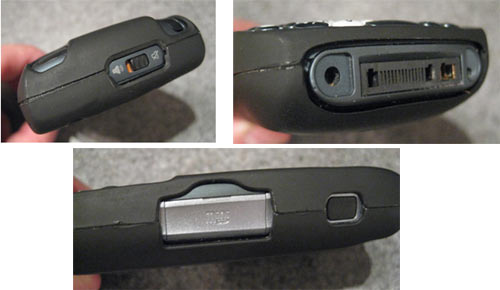 Pros:
Most of the glaring issues with the previous generation Seidio case have been resolved
Lightweight design while still offering a reasonably amount of protection
Reasonable price considering the quality and durability of the case
Newer, antenna-less Treo formfactors are much better suited to this type of case than the old 700 & 600-series Treos
Rubberized coating offers plenty of handling advantages along + a luxurious feel
Cons:
Case is even more likely than the previous generation Seidio case style to fall apart or wobble when dropped or bumped on the top corners
Treo becomes too thick to use with Palm's Treo Cradle or most pouch cases when case is installed (as expected)
No protection offered for LCD or keyboard
Conclusion
While I am not going to rush out and proclaim this to be the finest handheld device accessory in years, I also cannot find anything majorly amiss with this case's design. While I continue to prefer the security of an enclosed pouch-style leather case, this is likely the best choice for Treo users seeking a slim, durable, and reasonably stylish case that's also fairly affordable, as long as caution is exercised to not drop it or bump it on its upper corners!
While the rubberized exterior coating found on the flagship Treo 755p and 750 somewhat mitigate the need for this case's finish, there's no doubting the extra protection provided by any kind of hard case always comes in handy. The various forms of the Seidio Ultraslim Rubberized Hard Case for the external antenna-less Treo 680, 750, and 755p is a very solid product that thankfully improves on its predecessor in nearly every aspect. Just don't drop it!
Rating:

3.5 / 5
Article Comments
(1 comment)
The following comments are owned by whoever posted them. PalmInfocenter is not responsible for them in any way.
Please Login or register here to add your comments.