Treo 755p Makes it to Verizon At Last
Monday, December 17, 2007 8:28:06 AM
Palm OS fans on Verizon Wireless finally have a reason to rejoice. Today marks the official release of the Treo 755p on the Verizon network, a full six months after the deviceís release on Sprint. Signs of the 755's release on Verizon have frequently appeared and disappeared over the past six months before customer reports of 755p availability through Verizonís B2B channels began trickling in last week.
The Palm Treo 755p from Verizon Wireless is available for $399.99 after a $50 mail-in rebate and new two-year customer agreement. Customers who purchase a qualified voice plan along with a data plan may be eligible for an additional $100 credit making the Treo 755p $299.99 for those customers.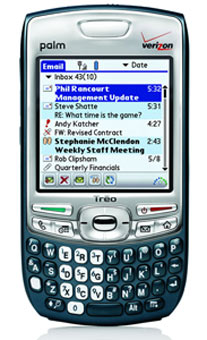 Treo 755p users also have the option of using Verizon Wireless' Wireless Sync, an exclusive feature not found on other carriers' versions, for quick and easy access to personal or corporate e-mail, contacts, calendar, and tasks from their home or office PC. Customers can sync up to 10 POP3 or IMAP e-mail accounts, including AOL, Yahoo! Premium and more with their Treo 755p. Wireless Sync supports Microsoft Exchange, IBM Lotus Notes and IBM Lotus Domino.
The Treo 755p offers VersaMail 3.5.45 with built-in Microsoft Exchange ActiveSync support for Microsoft Direct Push Technology that delivers e-mail and calendar updates from a home or office PC using Outlook. Businesses connected to a Microsoft Exchange Server get fast, automatic wireless updates of e-mail, calendar and contact information with added IT security and remote manageability.
Size wise, the Treo 755p has dimensions of 4.4" x 2.3" x 0.8" inches (111.7 x 58.4 x 20.3mm) and weighs in at 5.64 ounces (160g). It shares the exact same dimensions as the 680 & 750, and is only a negligible 0.2 ounces heavier.
The CDMA 2000 EVDO Rev. 0 755p is Palm's first antenna-less CDMA Palm OS Treo and has been available on Sprint's network since May. The PIC review of the nearly identical Sprint version of the 755p can be found here. Verizon Wireless Nationwide E-mail plans for the Treo 755p begin at $79.99 for 450 anytime voice minutes and unlimited e-mail.
In other 755p news, accessory specialist Seidio already has ramped up its online store with an azure green door for their extended-capacity 755p battery. The Verizon version can be distinguished from its other CDMA stablemates by a unique "azure green" color scheme. The older versions of the 755p on Sprint are offered in blue and burgundy versions alongside with Alltel's sleek black version.
Article Comments
(13 comments)
The following comments are owned by whoever posted them. PalmInfocenter is not responsible for them in any way.
Please Login or register here to add your comments.