Cingular palmOne Treo 650 Out With EDGE
Wednesday, February 2, 2005 12:21:03 AM
Cingular Wireless and palmOne today announced the availability of the Treo 650 smartphone, the first device of its kind to take advantage of the carrier's EDGE (Enhanced Data for Global Evolution) network, the fastest national wireless data network in the United States. The Treo 650 also is a quad-band worldphone, so Cingular customers can make and receive voice calls in 170 countries and access data in nearly 75 countries.
The palmOne Treo 650 combines a compact, full-featured mobile phone with email, a Palm OS organizer, messaging, web access and digital camera, letting users organize and simplify their business and personal lives all in one device. The newest member of the Treo family builds on the award-winning design of the Treo 600 with new and improved features, including a high-resolution screen; expanded multimedia capabilities, such as an MP3 player and video capture and playback; removable battery; non-volatile memory; and Bluetooth wireless technology.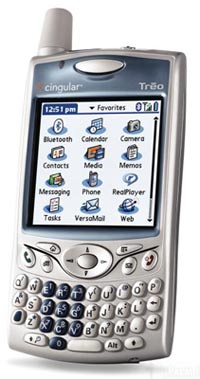 "In a world where everyone is mobile and everything is digital, people value mobile access to the information they care about most," said Ken Wirt, senior vice president, worldwide marketing, palmOne. "With Cingular's strong voice and data network, the Treo 650 smartphone meets this need by delivering a great voice and data experience in a single, easy-to-use device."
EDGE Benefits for Treo 650 Users
Equipped with EDGE technology, the Treo 650 can access accelerated data speeds averaging up to 135 kilobits per second (kbps), which is nearly three times the speed of a conventional wired dial-up connection. Cingular's EDGE network is available in more than 8,500 cities and towns and along 30,000 miles of highways.
EDGE's fast data speeds and widespread coverage, combined with a high-resolution screen, improved QWERTY keyboard for easy text entry, and user-replaceable battery, make the Treo 650 an ideal platform for enterprise email and vertical market applications. When deployed with enterprise email solutions, such as Cingular's XpressMail or GoodLink by Good Technology, the Treo 650 enables users to send and receive email, meeting invitations, and updates to contact directories and to-do lists.
The Treo 650 enables enterprises to deploy real-time applications tailored for a wide range of industries, including healthcare, high-tech, professional services and more. With EDGE's data capabilities, the Treo 650 on Cingular's network offers faster data rates for best-in-breed solutions, such as field-service/sales-force automation and patient/case management, putting critical data more quickly into the hands of enterprise professionals. Cingular Wireless is the leader in enterprise wireless data solutions, serving employees of 95 of the Fortune 100 companies and more than 80 percent of the Fortune 500 as customers. It also serves more than 1,200 federal, state and local government agencies.
U.S. Pricing and Availability
Cingular Wireless customers now can enjoy the Treo 650 on the company's ALLOVER network, the largest digital voice and data network in America. The Treo 650 will be available later this week for consumers and businesses online at the palmOne Treo Store and at select Cingular retail locations.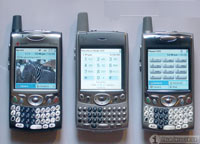 The Treo 650 is available at a suggested retail price of $549.99 without a contract, and $449.99 with a two-year contract. A variety of monthly data plans are available, including an unlimited plan for $44.99/month.
Article Comments
(28 comments)
The following comments are owned by whoever posted them. PalmInfocenter is not responsible for them in any way.
Please Login or register here to add your comments.